Gaber, John, Ph.D., AICP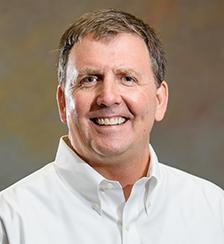 Position
Department Chair and Professor, City Planning and Real Estate Development
Contact
Office: 3-109 Lee Hall III
Phone: 864-656-1208
Email: jgaber@clemson.edu

Education
Ph.D. in Urban Planning, Columbia University (1993); Master of Urban and Regional Planning, University of Southern California (1988); Bachelor of Arts in Political Science, University of California at Los Angeles (1986)
John Gaber is the Chair for the Department of City Planning and Real Estate Development. John is a member of the American Institute of Certified Planners. John serves as Program Director for the City and Regional Planning Masters' Program.
Dr. Gaber in his own words:
- Hometown: Van Nuys, California, a blue-collar suburb in the San Fernando Valley, Los Angeles, California.
What I like best about teaching at Clemson:
Small class sizes. Very diverse student population from all over the country and all over the world.
- Favorite urban planning movie:
Blade Runner 1982 and Blade Runner 2049. Great combination of futurism with global urban culture.
- Advice for prospective students:
Your MCRP experience will be a game-changer. This will be the only two years of your entire life where you will be able to totally immerse yourself into the craft of your future profession. Soak as much up as you can. You will have the rest of your life to catch up on the lost sleep.
- What students should take away from my classes:
First, the ability to ask good questions. What we know in planning is based on the questions we ask. Second, how to pay attention to your environment and what other people in the community and your profession are telling you.
- When not teaching I enjoy …
(Not listed in any order) hiking the Blue Ridge Mountains, surfing at Folly Beach, SC, fishing at Lake Issaqueena (Part of Clemson University Experimental Forest that is part of the National Forest Service) and catching nothing, playing tennis, gardening, snow skiing wherever and whenever I can, yoga, and, doing ethnographic field research.
- What students should take away from classes (or pizza with the Chair meetings):
Figuring out how to make things work for multiple constituents. Sometimes the best plan is not the most equitable.
- Why I became a planner:
To change the world. Isn't this why everyone goes into Planning?
- Favorite Cities:
(Listed in order) Manhattan, Istanbul, Naples, Greenville, Santa Fe, Groningen, and any hippie town.
- If I wasn't teaching urban planning I would be …
City planner in Arcata, California, community organizer in the Lower East Side, National Ski Patrol in Snowbird, Utah, or National Park Ranger at Emerald Bay State Park, Lake Tahoe.
Selected Professional Works:
"Seeing the Community's Perspective Through Multiple Emic and Etic Vistas," in Journal of Health Promotion International, 32:6, pp.1025-1033, December, 2017.
"Establishing Mixed Method Research Design Guidelines in Health Impact Assessment (HIA) Investigations" (with T. Overacker) in Impact Assessment and Project Appraisal (IAPA) Journal, 30: 4, pp.275-283, December, 2012.
"Using Face Validity to Recognize Empirical Community Observations," in Evaluation and Program Planning, with (S. Gaber), May, 2010, 33:2, pp138-146.
"Simulating Planning: SimCity as a Pedagogical Tool," in Journal of Planning Education and Research, Winter, 2007, 27:2, pp.113-121.
Qualitative Analysis for Planning and Policy: Beyond the Numbers, American Planning Association Press, Chicago, 2007 (with S. Gaber), ISBN: 978-1-932364-32-3.
"The Internationalization of the Great Plains: An Analysis of Refugee Resettlement Patterns," in Journal of Great Plains Research, (with S. Gaber, J. Vincent, and D. Boellstorf), 14:2, pp. 165-183, 2004.
"If You Could See What I Know: Moving Planners' Use of Photographic Images from Illustrations to Empirical Data," (with S. Gaber) the Journal of Architecture and Planning Research, 2004. 21:3, 222-238.
"Utilizing Mixed-Method Research Designs in Planning: The Case of Fourteenth Street, New York City," (with S. Gaber), in Journal of Planning Education and Research,1997. Winter, Volume 17, Number 2, pp.95-103.
"Manhattan's 14th Street Vendors' Market: Informal Street Peddlers Complementary Relationship with New York City's Economy," Urban Anthropology, 1994. Winter, Volume 23, Number 4, pp.1-36. {This article is recognized in the International Bibliography of the Social Sciences, Routledge (1995) as being one of the most important works in anthropology published in 1994.}