Mudge, Stephen H. (Steve)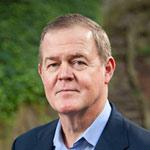 Position
President, Serrus Capital Partners, Inc.
Contact
Phone: 864-987-1639
Email: steve.mudge@serrus.com
With more than 30 years of real estate experience, Steve has earned a reputation for adding financial value to assets in both the public and private sectors. His corporate leadership roles include serving as EVP of Mixed Use Development for Marriott International and The Ritz-Carlton Hotel Company and as VP of Planning and Development for Centex Destination Properties. As co-founder of Serrus Capital Partners, Steve leads the investment efforts.