Morgan, III, John William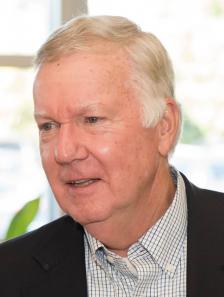 Position
Area VP of Acquisitions, Kolter Homes LLC
Contact
Email: jmorgan@kolter.com
John Morgan is a Columbia, SC, native and an honor graduate of Clemson University with a Bachelor of Architecture degree. He also holds a Master of Architecture in Urban Design degree from Rice University. Morgan spent the first five years in professional life at Hilton Head Island working on the development of Moss Creek Plantation, where he served as President from 1976-1978. He then started the Keenan Company Development Group in Columbia, SC, before acquiring this operation and starting his own company, The Development Group, Inc., in 1980. Real estate developments managed or developed by Morgan over a span of 40 years are located in six states and have been recognized by the receipt of local, regional and national design and professional awards.

Civic and professional service has included serving on the Board of the Rice Center for Community Design and Research, the Beaufort County Joint Planning Commission, Chairman of the City of Columbia Riverfront/Canal Advisory Committee, the Boards of the Historic Columbia Foundation, the Columbia Action Council, the Columbia Housing Authority, Clemson Advancement Foundation for Design & Building (CAF), and Clemson Advancement Board for Real Estate Development (ABRED). John has been an active member of the Urban Land Institute (ULI) for many years and is also a member of the American Institute of Architects.

John joined Greenwood Communities and Resorts in 1994 and focused on Greenwood's community development initiatives in the Charleston tri-county market. He completed the 744 acre Beresford Hall waterfront community in 2005, and then started The Ponds, a 1950 acre mixed-use community outside of Summerville. Both Beresford Hall and The Ponds have received AIA and ASLA design awards for their master plans and amenity centers.

In December 2013, John joined Kolter Homes LLC, an affiliate of the purchase group who bought The Ponds, as Area Vice President of Acquisitions. He is focusing on guiding Kolter's expansion in community development and home building in South Carolina and North Carolina, with an emphasis on site selection, programming and planning active adult communities under the Kolter brand called Cresswind.