Vander Mey, Brenda, Ph.D.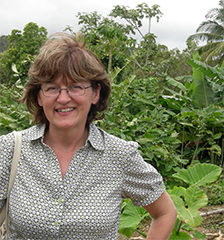 Position
Professor, Sociology
Contact
Office: 132 Brackett Hall
Phone: 864-656-3821
Web Site: https://sites.google.com/a/g.clemson.edu/brendavandermey/
Email: vanmey@clemson.edu

Education
Ph.D. in Sociology, Mississippi State University (1984); M.A. in Sociology, Mississippi State University (1981); B.A. in Psychology, Trinity Christian College (1978)
Currently, I am focusing my research energies on inequality, food security, environmental issues, disasters, and sustainability. I continue to work with students on service learning that focuses on food security, poverty, and homelessness – three of the many negative effects of stratification and inequality. I also have taken students to Dominica as per Landscapes for Learning and issues surrounding food security, youth, and community and environmental sustainability. I have been nominated for the Frank Burtner Award for Excellence in Undergraduate Advising, the Master Teacher Award, and was Clemson's nominee for the Lynton Award for Service Learning. I also am a Master Gardener.