Taylor-Shockley, Megan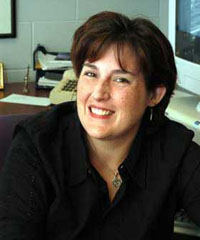 Position
Professor
Contact
Office: 104 Hardin Hall
Phone: (864) 656-3153
Web Site: http://www.megantaylorshockley.com/
Email: mshockl@clemson.edu

Education
Ph.D., University of Arizona (2000)
Megan Shockley teaches courses in museum studies, heritage tourism, digital history, and women's history. She is the coordinator of the Public History Emphasis Area Program. She supervises internships and is a project manager on the Palmetto History Project. She is currently working on a history of second-wave feminism in Virginia.
Selected Professional Works
Books (Published)
Changing History: Virginia Women Through Four Centuries Co-authors Cynthia Kierner And Jennifer Loux. Richmond: Library of Virginia Press, Spring 2013.
The Captain's Widow of Sandwich: Self-Invention and the Life of Hannah Rebecca Burgess, 1834-1917. New York: NYU Press, 2010.
"We, Too, Are Americans": African-American Women in Detroit and Richmond, 1940-1954 (University of Illinois Press, 2003).