Weise, Jillian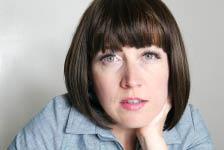 Position
Associate Professor, Creative Writing
Contact
Office: 312 Strode
Web Site: http://www.jillianweise.com
Email: jweise@clemson.edu

Education
Ph.D. English, University of Cincinnati; M.F.A. Poetry, University of North Carolina at Greensboro; B.S. International Affairs and English, Florida State University
Jillian Weise is a poet, performance artist and disability rights activist. She is the author of two poetry collections and a novel. Her first book, The Amputee's Guide to Sex, was recently reissued in a 10th anniversary edition with a new preface. Weise's essays have appeared in A Public Space, The New York Times, and Tin House. Her work is anthologized in The Writers Presence (Bedford, 2018); The Manifesto Project (Univ. of Akron, 2016); Disability Studies Reader (Routledge, 2016); Please Excuse this Poem: 100 New Poets for the Next Generation (Viking, 2015) and elsewhere. Her heteronym, Tipsy Tullivan, hosts a show called "Tips for Writers" on YouTube. She has been awarded residencies/fellowships from the Fine Arts Work Center, the Fulbright Program, and the Lannan Foundation; she worked in editorial at The Paris Review and The Iowa Review. Her next book is forthcoming in Fall 2019.
Selected Professional Works
Books (Published)
The Book of Goodbyes. Rochester, NY: BOA Editions, 2013.
The Colony. Berkeley, California: Counterpoint/Soft Skull Press, 2010.
The Amputee's Guide to Sex. Berkeley, California: Soft Skull Press, 2007.
Translating the Body. White Marsh, Virginia. All Nations Press, 2006.
Books (In Production or Under Contract)
Cyborg Detective. Forthcoming from BOA Editions.
Journal Articles & Book Chapters (Published)
"The Dawn of the Tryborg." The New York Times. 2016. https://www.nytimes.com/2016/11/30/opinion/the-dawn-of-the-tryborg.html>
"Why I Own a Gun." Tin House. Fall 2015. Cited as Notable Essay in Best American Essays 2016. Cited in Playboy magazine July/August 2018.
"Cloning Disabled Subjects." Drunken Boat. Spring/Summer 2012.
"On Catullus." Voltage Poetry. Winter 2012.
Going Cyborg. The New York Times, January 8, 2010. http://www.nytimes.com/2010/01/10/magazine/10lives-t.html
Poetry (Published)
"Nondisabled Demands." Academy of American Poets, Poem-a-Day. 2018.
"The Responsibility of the Poet in the Voice of Ray Bradbury as Channeled by the Cyborg Jillian Weise." Faber & Faber Poetry Podcast. London, 2018.
"Donna Haraway Manifesto" and "Of the Impending Mission." Bellingham Review. 2017.
"The Early American Hour" and "I Want Your Fax." Boston Review. 2017.
"No Stopping, No Getting Off" and "What You Need to Know." Granta. 2017.
"Some Rights." Academy of American Poets, Poem-a-Day. 2017.
"The Amputee's Guide to Sex." Reprint. Lapham's Quarterly. 2016.
"Regulatory Capture." The New Republic. Fall 2015.
"Poem Conveyed." Granta. No. 132, 2015.
"Biohack Manifesto" and "Future Biometrics." POETRY. March 2015. http://www.poetryfoundation.org/poetrymagazine/poem/250084
"Beside You on Main Street." Academy of American Poets, Poem-a-Day. 2015.
Creative Works (Published)
Web Series
"Tips for Writers by Tipsy Tullivan" appears on Facebook, Instagram and YouTube. Citations for the web series include:
Lu, Alex. "What Does It Mean To Be a Disabled Writer?"
Electric Literature
. 2018.
Hightower, Nancy. "A Conversation with Jillian Weise."
Epiphany
. 2017.
Male, Jessie. "Staring Back, Staring Out: An Interview with Jillian Weise."
BOMB
. 2017.
Flaherty, Colleen. " 'Rushing' the Academic Job Market."
Inside Higher Ed
. 2016.
Teicher, Craig. "How the American Creative Writing Community Can Be Made More Inclusive."
Publishers Weekly
. 2016.
Conference Presentations (Delivered)
Recent invited readings at The Kitchen w/ Eileen Myles, KGB Bar, Malaprop's Bookstore, The University of Pittsburgh and Columbia Museum of Art.
"Hacking Norms and the Contested BodyMind." Split This Rock 2018.
"Leap: Disjunction, Disconnection & Useful Dissonance." AWP 2018.
"Ableism Is a Drag: Poetry & Performance as Transgression." Keynote. Southeastern Women's Studies Association. 2017.
"Accommodating Ableism: How Creative Writing Privileges Normates." Creative Writing Studies Organization. 2017.
"Permission and Provocation." Keynote. Chippewa Valley Book Festival. 2017.
"Disability Poetics and/as Spectacle." UCLA International Conference on Disability. 2017.
"The Manifesto Project." AWP 2017.
"The Academic and Creative Persona." Workshop. Ohio State University. 2016.
"Experimental Film Screening." Public Space One. 2016.
"Bioethics, Medical Humanities, and the Poetry of Disability." American Society of Bioethics and Humanities (ASBH), Houston. October 2015.
"Poets in the World of Novel Writing." AWP Conference, Minneapolis. April 2015.
"Poetry and Disability." AWP Conference, Minneapolis. April 2015.
Award Ceremony. The Academy of American Poets, New York. October 2013. https://www.youtube.com/watch?v=IVfgFe5agNQ&feature=youtu.be&t=4m21s
"Conversation on Disability, Biogenetics and Ethics in The Colony." University of California-Berkeley Disability Colloquium, Berkeley. 19 March 2010.
Conference Proposals (Accepted or Submitted)
"Disability Poetics." MLA Chicago 2019.
"Just Be Yourself & Teach Us: Disabled & Deaf Writers and the Imaginary Nondisabled/Nondeaf General Audience." Nonfiction Now 2018.