Flowers, Lamont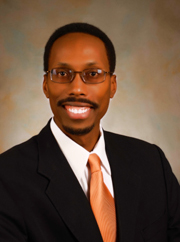 Position
Distinguished Professor of Educational Leadership; Executive Director of Charles H. Houston Center
Contact
Office: G01D Tillman Hall
Phone: (864)656-0313
Email: lflower@clemson.edu

Education
Doctorate in Higher Education, University of Iowa; M.A. in Social Studies Education, University of Iowa; Master of Industrial Statistics, University of South Carolina; B.S. in Accounting, Virginia Commonwealth University
Lamont A. Flowers is the Distinguished Professor of Educational Leadership in the Department of Leadership, Counselor Education, Human and Organizational Development and the Executive Director of the Charles H. Houston Center for the Study of the Black Experience in Education in the Eugene T. Moore School of Education at Clemson University.
Dr. Flowers has authored several scholarly publications pertaining to the factors impacting the pathways to a college degree and occupational attainment for African Americans including empirical studies regarding academic achievement, access and equity, educational attainment, educational policy, labor market outcomes, and student development. For example, he edited Diversity Issues in American Colleges and Universities: Case Studies for Higher Education and Student Affairs Professionals.
Dr. Flowers has served as a primary investigator on research and program grants totaling more than $1.1 million dollars. For example, he has received grants to conduct research from the American Educational Research Association, Spencer Foundation, Association for Institutional Research, and the National Science Foundation. Also, Dr. Flowers has received several honors including the W.E.B Dubois Higher Education Award from the National Alliance of Black School Educators, Scholars of Color Early Career Contribution Award from the American Educational Research Association, and the William R. Jones Outstanding Mentor Award from the Florida Education Fund.