Stephens, Robert J.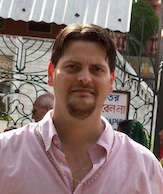 Position
Lecturer in Religion
Contact
Office: 004 Hardin
Phone: 864-656-6697 x18
Email: rsteph3@clemson.edu

Courses
Lecturer (Asian Religion)
Education
Ph.D., University of Iowa; Master's, University of Kansas; B.A., Missouri State University
Robert Stephens received a B.A. (cum laude) from Missouri State University with a major in Religious Studies (with an emphasis in early Christian literature) and a minor in History/Secondary Social Studies Education. He holds a Master's degree from the University of Kansas in Method and Theory in the Study of Religion. He was awarded a Ph.D. in the History of Asian Religions and Cultures from the University of Iowa in 2004. He has taught at the University of Northern Iowa (Cedar Falls), the University of Alabama (Tuscaloosa), Transylvania University (Lexington, KY), and Lindenwood University (St. Charles, MO). Special interests include religion, law, and social conflict in modern India, Asian philosophy, theories of religious conversion, and comparative religious fundamentalisms. He has contributed to such publications as Religious Studies Review, Journal of Asian Studies, Council of Societies for the Study of Religion Bulletin, and Journal of Church and State. Recent publications include "Sites of Conflict in the Indian Secular State: Secularism, Caste and Religious Conversion" and "Hinduism in Independent India: Fundamentalism and Secularism."