Faculty Bio
Laurence, Peter, Ph.D.
Position
Graduate Director, Assistant Professor
Contact
Office: Lee 3-133
Phone: 864-656-1499
Email: plauren@clemson.edu

Education
Ph.D. in Architecture, University of Pennsylvania School of Design; M.S. in Architectural History and Theory, University of Pennsylvania School of Design ; M.Arch., Harvard Graduate School of Design
Dr. Peter Laurence first taught studios at Clemson in 1999, following the completion of his M. Arch. at Harvard Graduate School of Design, and before continuing graduate studies in architectural history and theory in the Ph.D. Program in Architecture at the University of Pennsylvania Graduate School of Fine Arts. In 2002, he won the First Prize Will M. Mehlhorn Scholarship for "outstanding work in architectural history and theory," and was awarded a Master of Science in Architectural History and Theory from University of Pennsylvania in 2004.
In 2006, Prof. Laurence's writing on Jane Jacobs contributed to the establishment of the Rockefeller Foundation's Jane Jacobs Medals. In 2007, his larger work on the history of urban design and the Rockefeller Foundation's contribution to that history initiated the 2008 international conference "Re-Imagining Cities: Urban Design After the Age of Oil" (http://www.reimaginingcities.net), hosted by Penn IUR and sponsored by the Rockefeller Foundation. With the major challenges facing designers of the built environment in the decades ahead in mind, Laurence defined the After Oil theme and served as co-director of the conference, which commemorated the 1958 Penn-Rockefeller Conference on Urban Design Criticism, a subject of Laurence's research.
Parts of Prof. Laurence's doctoral dissertation, "Jane Jacobs, American Architectural Criticism and Urban Design Theory, 1935-1965," have been published in Journal of Architectural Education, Journal of the Society of Architectural Historians, and Journal of Urban Design. Other projects include contributions to Reconsidering Jane Jacobs (Planners Press, 2011), edited by Tim Mennel and Max Page, and Alternative Visions of Post-war Reconstruction: Creating the Modern Townscape (Routledge, 2012), and A Critical History of Contemporary Architecture, 1960-2010, edited by Elie Haddad and David Rifkind. His book on Jacobs is forthcoming from University of Pennsylvania Press.
Apart from his research and writing in urban design, Prof. Laurence is interested in intersections of architectural theory and the history and philosophy of science, and in 2005, he presented a paper "On the Concept of Experience in Leon Battista Alberti's De re aedificatoria" at a European Science Foundation conference in Ireland.
Laurence's research has been supported and funded in part by fellowships and grants from Clemson University College of Architecture, Arts & Humanities, University of Pennsylvania, the Rockefeller Archive Center, the Beverly Willis Architecture Foundation, and the Rockefeller Foundation.
Prof. Laurence serves on the editorial board of Urban Design International. He has taught urban design at Columbia University Graduate School of Architecture, Planning, and Preservation as Visiting Assistant Professor, and has taught urban design history at University of North Carolina. At Clemson, he serves as graduate director and teaches design studios and seminars in the history and theory of architecture, landscape, and urban design.
Faculty Poster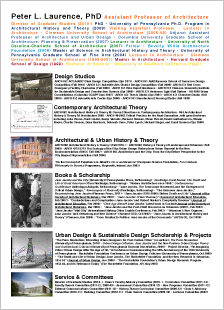 In Fall 2011, the School of Architecture faculty designed posters to represent their research, designs, accomplishments and interests, for use in the NAAB accreditation process.