Harris Student Awards 2010
CLEMSON - Outstanding graduate students were recognized at this spring's Electrical and Computer Engineering Graduate Student Achievement Award Ceremony. Graduate students Chunrong Song and Christopher May received Harris Awards, two department-wide awards which have been given each year for the past 25 years in recognition of outstanding accomplishment in the preceding year by a current Clemson graduate student in each of two areas: laboratory teaching and research.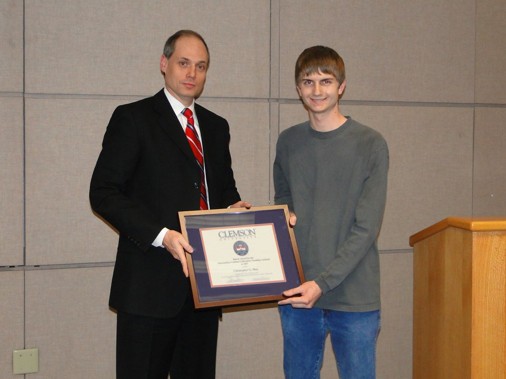 Christopher May received the Harris Award for the Outstanding Graduate Laboratory Teaching Assistant in 2009 based on evaluations by undergraduates enrolled in ECE laboratory courses and assessment by the faculty supervisors of the laboratories. Chris completed the B.S. degree in electrical engineering at Clemson in 2008, and he is currently pursuing the M.S. Electrical Engineering degree with an emphasis in power systems under the direction of Professor Randy Collins. Student evaluations of his laboratory teaching are consistently enthusiastic, such as the comment by one student that Chris is "awesome, the best TA I've had [at] Clemson."
Chunrong Song received the Harris Award for the Outstanding Graduate Researcher in 2009 based on the recommendation of a faculty member and evaluation by a committee of ECE faculty. Chunrong completed the B.S. and M.S. degrees in analytical chemistry at the China University of Geosciences, and she received the M.S. degree in electrical engineering from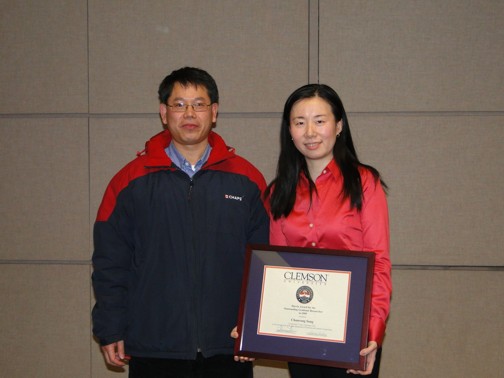 the Southern Illinois University at Carbondale in 2005. She is currently pursuing the Ph.D. degree in electrical engineering at Clemson with an emphasis in RF and microwave MEMS devices under the direction of Prof. Pingshan Wang. Chunrong's record of research productivity and scholarship is outstanding. Since beginning the Ph.D. program at Clemson, she has authored six journal papers and six conference papers, with a seventh journal paper currently under review.
Since their inception, the Harris Awards have been accompanied by a monetary stipend, which is provided by the generosity of Harris Corp. The Holcombe Department of Electrical and Computer Engineering appreciates the support and encouragement that Harris and its employees provide to our department and our students.