The Holcombe Department of Electrical and Computer Engineering
Clemson team wins "Best in Defense"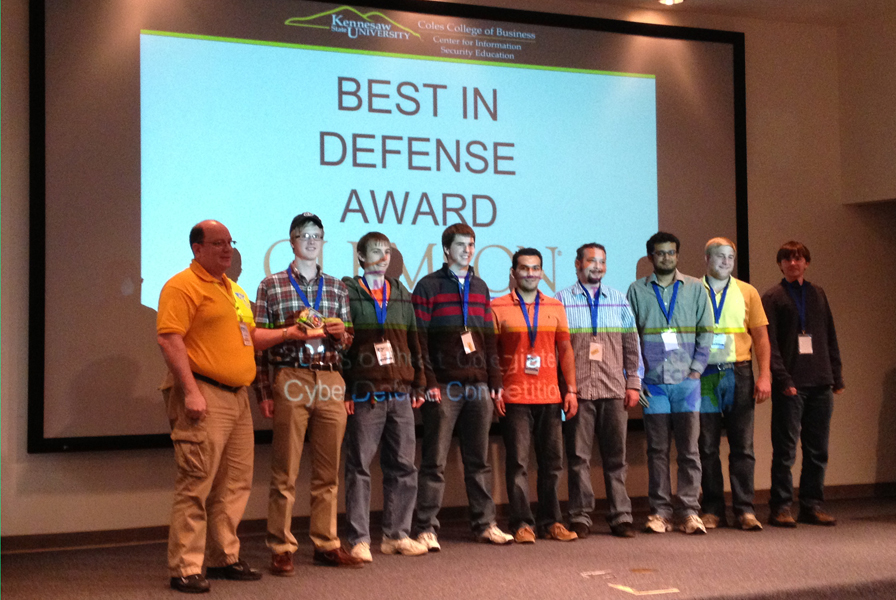 A Clemson team took home the "Best in Defense" award at the South East Collegiate Cyber Defense Competition (SE-CCDC) held at Kennesaw State University in March. 
The competition pitted "Blue Teams" of students who were tasked with operating a network system and defending it from the "Red Team" comprised of industry penetration experts. Clemson's team members included computer engineering seniors Edward Sullivan and James Jernigan, computer science seniors Christopher Corsi, Daniel Dara, Richard Renner, and Steve Higareda, and computer science graduate students  Samuel Casacio,  Steven Dinger,  Dennis Lingerfelt, and Aravindh Sampath.  The team was advised by John Hoyt and Dr. Kevin McKenzie, both from the Office of Information Security and Privacy (OISP) with Clemson Computing and Information Technology (CCIT).