ECE's Wendy Howard earns Master's degree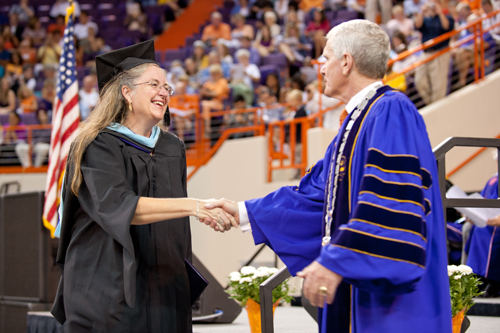 Congratulations to ECE staff member Wendy Howard for receiving her Master's degree in Clemson's Human Resource Development program at the August 2012 Commencement! 
Wendy completed the two-year program while working full-time by taking online evening courses, completing 36 credit hours and ending her Master's program with a 4.0 GPA. 
The Master of Human Resource Development (MHRD) program at Clemson is designed to prepare people to become strategic thinkers and problem solvers by drawing from systems design, psychology, education, sociology, organization development and management theory. According to the program's Web site, "one of the major goals of this program is to provide a framework that includes creative and critical problem-solving skills, the appropriate use of emerging technologies, accompanied by an appreciation for diversity and ethics to develop highly valued and productive workplaces."
Wendy says it was this real-world focus and the interdisciplinary aspect that drew her to the program. 
"I knew I wanted to get my Master's, and I wanted to learn something I would really use," said Howard. "I liked that this program was for working people, and I really liked my peers." She said that having peers who held down full-time jobs in a wide variety of fields and with many different positions she could talk to and learn from was one of the most enjoyable parts of the program.  "I have already used a lot of what I have learned in my professional life."
Wendy has always made continuing her education a priority. She began working at the university in 1992, when she moved to Clemson with her husband, Tharon, who had taken a faculty position in the English department. Working first in the entomology department and the associate vice president for finance office before joining the ECE department in 1996, Wendy continued to pursue undergraduate coursework while balancing full-time employment and family life. She received her B.A. in psychology from Clemson in May 2005.
Wendy is currently an accountant and fiscal analyst for the ECE department, and is an active member of the university community. She helped lead the development of the university's Staff Development Program and served as the program's chair for it's first two years. During her time at Clemson she has served on the Staff Senate, President's Commission on the Status of Women, the University's Council on Community and Diversity and with many other organizations across campus, and was the recipient of the 2010 Clemson University Outstanding Woman Staff Award.  She and Tharon have two sons; Bryce, a 2004 graduate of Clemson's computer engineering program, and Logan, a current Clemson senior studying computer science.