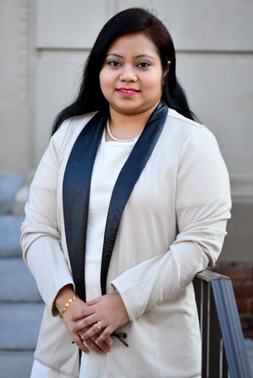 Congratulations to ECE student Shamama Afnan on being chosen as a Fall 2013 LDC Data Scholarship program recipient! The program provides college students with data resources from the Linguistic Data Consortium (LDC) for use in their thesis or dissertation research. Shamama was one of only six recipients chosen from applicants around the globe.
Shamama is currently pursuing her Master's in electrical engineering at Clemson, and has been awarded a copy of NIST Speaker Recognition Training and Test data for her work in speaker recognition. For the initial part of her thesis project, she has performed an extensive literature review or recent research in the area of speaker recognition. This has included an in-depth review of the systems developed by MIT Lincoln Labs and by SRI. Shamama's  current plans are to use the Lincoln Labs system as a foundation and to devise enhancements of the algorithms used in that system.
The LDC is an open consortium of universities, libraries, corporations, and government research laboratories. It was formed in 1992 to address the critical data shortage then facing language technology research and development. the Advanced Research Projects Agency provided seed funding for the Consortium and the National Science Foundation provided additional support via a grant from the Information and Intelligent Systems division. The LDC's initial role was as a repository and distribution point for language resources, but has since grown into an organization that creates and distributes a wide array of language resources. LDC also supports sponsored research programs and language-based technology evaluations by providing resources and contributing organizational expertise.