The Holcombe Department of Electrical and Computer Engineering
Certificate in Engineering Education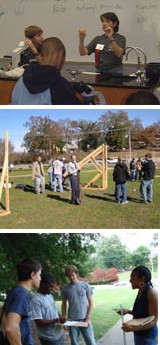 The Department of Engineering and Science Education offers graduate students in the Holcombe Department of  Electrical and Computer Engineering the opportunity to earn a Certificate in Engineering Education.  This educational experience is designed for graduate students who seek experience in preparation for an academic career and wish to further their understanding of the education process in engineering.  This certificate program includes a range of courses that may be chosen to address specific research questions or interests.  The certificate program requires 11 credit hours, which can be used to partially fulfill the EE or CpE Ph.D. degree requirements, are described as follows:
Pedagogy (3 credits)        
CES 820 Teaching Undergraduate Engineering 3(3,0) - Designed for engineering graduate students seeking a career in academe. Includes both discussion and practice of effective teaching techniques, assessments and technologies, as well as an overview of current engineering education research.
Professional preparation (3 credits)        
Choose one out of the following options:
CES 825 Engineering and Science Student Strategies 3(3,0) - Elucidates relationships between students' prior knowledge, problem solving skills and cognitive processes in undergraduate engineering and science courses. Focuses on steps involved in problem solving, how misconceptions are manifested in students' work and how instruction can be structured to address those misconceptions.
CES 875 Current Issues in STEM Education Research 3(3,0) - Designed for doctoral students interested in STEM education research. Covers research issues of current relevance to a breadth of STEM education fields. Students have the opportunity to investigate a current topic of their choosing.
CES 888 Preparing for the Professoriate 3(3,0) - Prepares students for obtaining a faculty position  and achieving tenure in science and engineering disciplines. Students develop a professional portfolio, prepare for the application/interview process and write a mini-proposal.
Research methods (3 credits) 
CES 871 Engineering and Science Education Research Methods 3(3,0) - Introduces methods and tools available for conducting pedagogically sound engineering and science education research. Quantitative, qualitative and mixed methods are discussed and practiced.
Practicum (1 credit)
CES 861 Practicum in Engineering and Science Education 1(1-3,0) - Practicum that includes teaching or mentoring undergraduates in Engineering and Science (General Engineering or the student's home department).
Seminar (1 credit) 
CES 800 Engineering and Science Education Research Methods 1(1,0) - Brings contemporary issues in engineering and science education research into the classroom. Experts from academia, industry and the corporate world give presentations on various issues, including recruitment of minorities, retention issues, technology integration into engineering curricula, distance learning, engineering content into K-12 curriculum, learning theories and education policy issues.
For more information, please contact Lisa Benson.