Creative Inquiry Electronics Project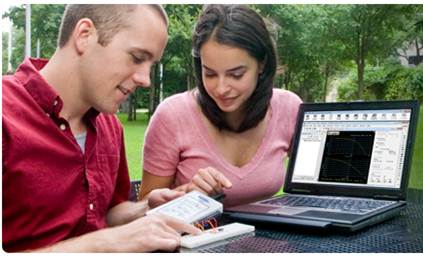 In this project based course, student teams build, test, and analyze electronic circuits using the National Instrument myDAQ and LabVIEW software. The myDAQ is a small, portable data acquisition system which connects to a laptop with a USB cable. The myDAQ provides a portal into the analog or digital world of measurement and control. LabVIEW,  a high-level programming tool widely used in industry and academia, provides engineers with the tools needed to create and deploy measurement and control systems through plug and play hardware integration.
In the first part of the course, students implement several preliminary experiments to learn the basics of electronics by using the myDAQ and the LabVIEW software on actual electronic components. These electronic components include batteries, resistors, capacitors, inductors, and diodes. In addition, LabVIEW, with its built-in simulation capability, allows student to simulate electronic circuits, and thereby, evaluate and confirm different circuit configurations before embarking on a physical layout. After gaining a firm understanding of the fundamentals of electronic components and the use of the myDAQ and LabVIEW software, student teams compete against each other by designing and building an electronic system (e.g., a karaoke machine or an air guitar) to accomplish a given task in a design competition.
Contacts:
Instructor:


Teaching Assistant:
Nishant Gupta
ngupta@g.clemson.edu
Office: Riggs Hall 300A
Office hours by appointment
Downloads:
LabVIEW Virtual Instruments (.zip folder)
Creative Inquiry Project: 
Example Presentation (view on youtube)
TAs:
Links: