The Holcombe Department of Electrical and Computer Engineering
The ECE Plugged In Program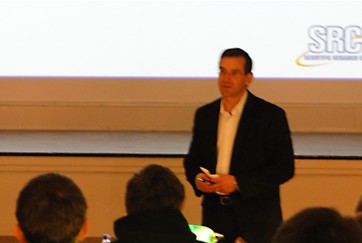 The Electrical and Computer Engineering (ECE) Plugged In Program at Clemson University (CU) is aimed at connecting current CU ECE students with CU ECE alumni. More specifically, participating ECE alumni or strong ECE advocates mentor one to three ECE sophomore students who are interested in being a "mentee" in the program.  The ECE Plugged In Program mentors contact their mentee students throughout the academic year to help keep them motivated and excited about electrical and computer engineering. All participating students sign a release form that allows the ECE department to provide their contact information to the mentor. The ECE undergraduate advising office strives to match student's interests with the mentor's experience.  The success of the ECE Plugged In Program depends on the mentor's commitment to the program and our students. 
Enrollment Period: June 1 – August 27 each year for the following fall/spring term
We are currently seeking mentors to begin the program in the upcoming academic year and accepting mentee sign-ups for sophomore engineering students entering the ECE department in the upcoming fall semester. The department hopes to expand the program to all sophomore students; hence, we require at least 40-50 mentors.  Mentor/Mentee notification begins in late August, prior to the first day of fall classes, and the length of the formal relationship is for one academic year. To review the requirements for becoming a mentor, please visit our Mentor Sign-Up Page. Incoming ECE students who are interested in participating in the Plugged In Program can sign up to be a Mentee here.
GOALS for Mentees
Increase retention rates of ECE students past the sophomore year
Motivate and encourage ECE students
Improve the potential for success of ECE students
Enhance the educational experience of ECE students 
OUTREACH by Mentors
Initiate communication with the student(s) at least three times during their sophomore year.  Contact can be by phone, email or in person. 
Inform ECE students about the wide range of career opportunities within Electrical or Computer Engineering 
Encourage ECE students to take advantage of opportunities that supplement their educational experience.  Opportunities can include tutoring, internships, co-ops, study abroad, and undergraduate research.