Contact Us
Dr. Debra B. Jackson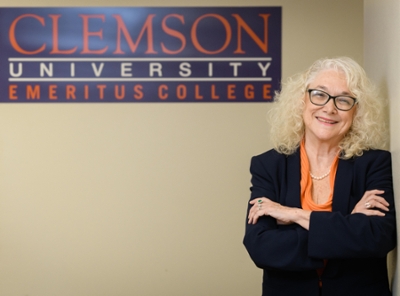 Dr. Jackson serves as the Director of the Emeritus College. She is Professor Emerita of Nursing at Clemson University and previously served as Vice Provost for Academic Affairs and Assistant to the President. She retired in 2017 after a 26-year career at Clemson. Prior to coming to Clemson, Professor Jackson spent 19 years at Emory University in various roles including as a tenured faculty member. She has served in many national and local positions as well as edited three textbooks and published numerous book chapters and articles. In 2013, she received the Order of the Tiger from the Undergraduate Student Government at Clemson and in the same year was recognized by the Cleveland Clinic WOC Nursing in their Hall of Fame. Click here to read more about her accomplishments. Along with being the Director of the Emeritus College, Dr. Jackson continues being actively engaged in her retirement through community volunteering and consulting.
Debbie can be reached by email at dbj@clemson.edu and her contact number is 864-656-3990.
Nicci Hanewald
Nicci Hanewald is the program assistant for Emeritus College in which she provides administrative support to the Director of the Emeritus College. Additionally, she serves as the point of contact for the emeritus faculty for information on emeritus benefits, service opportunities, programs, and events. She plans, organizes, administers and manages functions for the director and the Emeritus College. Nicci received her Master's in Parks, Recreation, and Tourism Management from Clemson University.
Nicci can be reached by email at nherman@clemson.edu, or by phone (864-656-3990).
---
Click here to Contact Emeritus Faculty