Main Content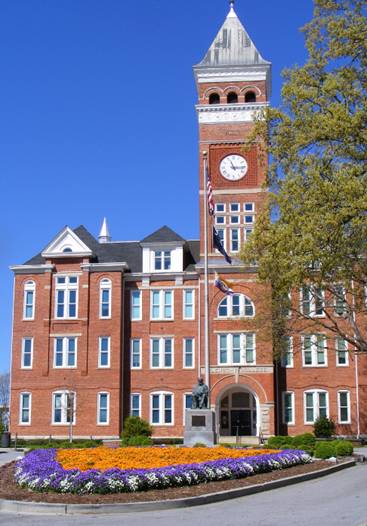 About Sustainability at Clemson University
Clemson Tradition
Clemson University's commitment to sustainability is fundamental. It is not something new. It is long-standing, deep and broad. It goes all the way back to our founder and our founding mission.
In an 1868 letter to the journal American Farmer, Thomas Green Clemson wrote:
"When nature's bank refuses to honor the drafts of the population for meat and bread … science is the only foundation on which we can depend for the recuperation of exhausted lands, or sustaining the fertility of those that are already tilled."
Sustainable agriculture and a sustainable economy – these were Thomas Green Clemson's goals in advocating for a college that focused on scientific education and research in the nineteenth century. These issues are woven into the history of our institution as a land grant university and into the fabric of our academic enterprise across campus and across disciplines. Today, we have transformed Thomas Green Clemson's understanding of agricultural sustainability into something more: a calling to operate our university and educate our students in a manner that prioritizes social, economic, and environmental well-being.
As one of the nation's top public universities, with a particular emphasis on the sciences, engineering and economic development, Clemson University has both the capability and the obligation to help develop a sustainable world through:
The education of its students
Cutting-edge research
Developing a campus culture of conservation and green decisions
Outreach beyond the campus
Establishing world leadership in a green economy
Our Path to a Sustainable Clemson
As an institution, Clemson adopted a Sustainable Building Policy in 2004 and a Sustainable Energy Policy in 2008. Clemson had the first LEED-certified public building in South Carolina and has completed 21 LEED-certified projects, with several others (like the new Business Building) in the works. In 2007, then President James F. Barker, along with 600 other presidents, signed the American College and University President's Climate Commitment. This joined Clemson with a coalition of colleges and universities concerned about the impacts of climate change. Since signing this, carbon emissions have remained around the 2007 level, even as the square footage of Clemson has increased. Finally, with the establishment of the President's Commission on Sustainability in 2009, Clemson has taken steps to continue this tradition of sustainability.

Now and For the Future
As we look toward the future, Clemson recognizes that sustainability will be of the utmost importance in continuing progress. Clemson University has recently recommitted to its focus on sustainability. The new Clemson University Sustainability Commission's charter was approved in the fall of 2018 and continues the work of President Barker's original commission.
In an effort to map out our course, Clemson developed its first Sustainability Action Plan under guidance of the President's Commission on Sustainability (now the Clemson University Commission on Sustainability). This document outlines the steps that need to be taken in order to meet our goal of becoming carbon neutral by 2030.
Along the path to a net-zero Clemson are two major checkpoints regarding building intensity and clean energy sourcing. Clemson University recently met our goal to reduce overall building energy intensity by 20 percent from 2000 to 2020 and has pledged to increase energy sourcing from renewable resources by 10 percent by 2025. Our goals will be reached through innovations in technology, passionate faculty and students and collaborative efforts amongst all members of the Clemson community.
To ensure accountability and unbiased assessment of our sustainable progress, Clemson has undergone two major external reviews. One of the reviews is the Sustainability Tracking, Assessment & Rating System (STARS) carried out by the Association for the Advancement of Sustainability in Higher Education (AASHE) in 2017. The other review is the Sightlines report. This report occurs yearly, assessing the operations of the university and reporting total emissions.
Current efforts at Clemson are documented on the Efforts at Clemson page.