Main Content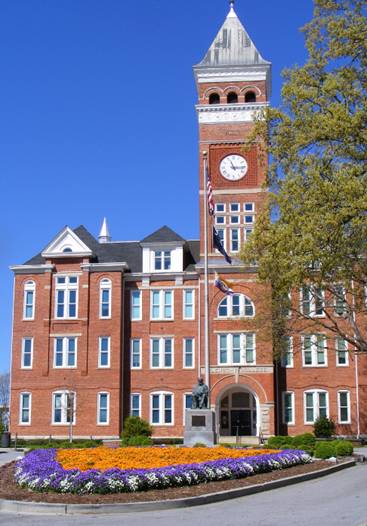 About Sustainability at Clemson University
Sustainability is defined as the physical development and institutional operating practices that "meet the needs of the present without compromising the ability of future generations to meet their own needs" (World Commission on Environment and Development).  Clemson University strives in every aspect to address sustainability and facilitate collaboration among students, faculty, staff and the community. Sustainability is the major focus in all campus energy production and consumption, water usage, waste management, transportation, construction projects and much more. The ambitious goals defined in the original President's Commission on Sustainability in the Sustainability Action Plan act as the coordinating body for our efforts to become a model of environmental stewardship.

As an institution, Clemson adopted a Sustainable Building Policy in 2004 and a Sustainable Energy Policy in 2008. Clemson had the first LEED-certified public building in South Carolina and has completed 13 LEED-certified projects, with several others in the works. In 2007, then President James F. Barker, along with 600 other presidents, signed the American College and University President's Climate Commitment. This included Clemson in a coalition of colleges and universities concerned about the impacts of climate change, and since signing this, carbon emissions have not exceeded the 2007 level, even as the square footage of Clemson has increased. Finally, with the establishment of the President's Commission on Sustainability in 2009, Clemson has taken steps to continue this tradition of sustainability.
In 2018, Clemson University recommitted to its focus on sustainability. The new Clemson University Sustainability Commission's charter was approved in the fall of 2018 and continues the work of President Barker's original commission.
Clemson University has pledged to reduce overall building energy intensity by 20 percent from 2000 to 2020 and to increase energy sourcing from renewable resources by 10 percent by 2025. These goals will be reached through innovations in technology, passionate faculty and students and collaborative efforts amongst all members of the Clemson community. The ultimate goal that will help guide us towards our objectives in 2020 and 2025 is the Net-Zero goal: Clemson University will achieve carbon neutrality by the year 2030. 
Culture and Leadership
As one of the nation's top public universities, with particular emphasis on the sciences, engineering and economic development, Clemson University has both the capability and the obligation to help develop a sustainable world through:

1.  the education of its students (our future decision makers and citizens)
2.  cutting-edge research
3.  developing a campus culture of conservation and green decisions
4.  outreach beyond the campus
5.  establishing world leadership in a green economy.

We recognize that this process will not be easy or quick. For too many years, energy has been too cheap, lifestyles too carefree and the environment too neglected. However, one of the best organizations to initiate change is a university. It is here that young people learn the way in which the world works and where they establish their adult lifestyle. It is here that bright minds produce new ideas, and it is here that educators can seek to interface with the world beyond the campus.