Main Content
Net-Zero Goal
The ultimate goal of the Sustainability Action Plan and the Clemson University Commission on Sustainability is to make the University carbon neutral by the year 2030. Described as the Net-Zero goal, becoming carbon neutral means achieving zero net carbon emissions by balancing carbon dioxide released with an equivalent amount of renewable energy. This can also be achieved through offsetting emissions by things like planting trees that, in turn, could help prevent future greenhouse gas emissions. This ambitious goal will require multiple large-scale projects and can be accomplished through initiatives in six major areas:
Carbon-free energy sources
Energy system efficiency
Building energy efficiency
Conservation/resource management/waste elimination
Carbon offsets
Transportation energy efficiency
Within these areas, carbon neutrality will require a series of more than 20 major initiatives, each with multiple sub-activities. These include changes to major infrastructure, building systems, commute behavior, forest management, and many others.

The plan is aggressive. It shows how the University eliminates or offsets more than 160,000 tons a year of carbon emissions in one generation while allowing for growth and change of the institution. There will be significant hurdles to clear in order to achieve the plan goals, but it can be done. As of 2013, approximately 64% of the University's greenhouse gas emissions are generated either through purchased electricity or on-campus stationary sources like buildings. This makes the issue of energy the single most important subject to be addressed regarding carbon emissions. Both the source of energy and how it is used must be taken into consideration. Achieving neutrality by using 100% renewable energy should be the end goal; however, it is not an optimal solution economically at this time. The actual solution will be much more involved and complex.

In 2013, the gross carbon emissions from Clemson were 160,212 MTCDE (Metric Tons of Carbon Dioxide Equivalent). As the starting figure from 2009 below shows, the projected tonnage of emissions is projected to increase beyond 200,000 MTCDE if Clemson were to continue at this rate. Fortunately, Clemson University has made great efforts in reducing its carbon footprint, and will continue to do so in order to reach the ideal avoided emissions as seen below. More information about Clemson's carbon footprint can be found in the Clemson's FY2016 Sustainability Solutions Presentation.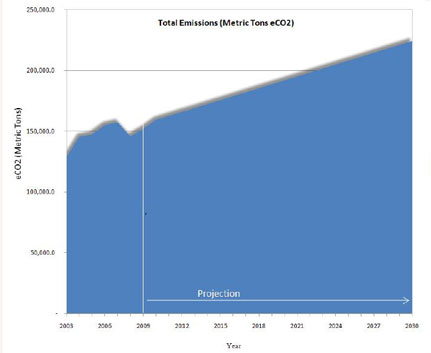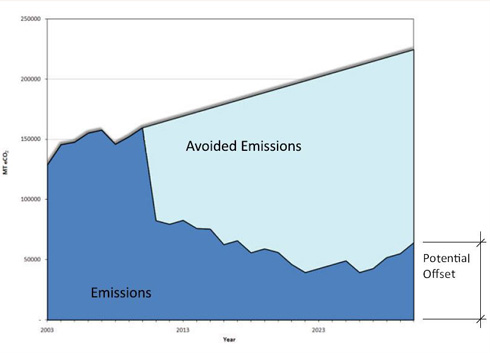 To put into perspective, one metric ton of carbon dioxide is equivalent to:
Driving 2,475 miles in a car
Heating 0.26 homes for a year
Powering a 60 watt compact fluorescent light bulb continuously for 4,900 days
Progress
Clemson has already made progress towards reaching the Net-Zero goal with the construction of Lee Hall III, a high energy efficiency building which has the potential to generate 100% or more of its own energy. It utilizes geothermal energy, and will be installing photovoltaic cells in the future to make it one of the most sustainable buildings in the United States. The University began replacing coal with natural gas in 2000 and eliminated burning coal for campus heating in 2011, which previously accounted for 6% of our energy use and has now greatly reduced carbon emissions.
Many other buildings on campus have also reached LEED certification.