Main Content
Research

The research Clemson University is conducting in sustainability is broad and continuing to grow. Our expertise in alternative energy technologies, water resources, sustainable agriculture, the built environment, and the natural environment come together to address the challenges of today and tomorrow. Clemson faculty, staff, and students form collaborative partnerships through these Clemson research institutions:
Institute for Sustainability (IfS)
This institute is intended to:
Help Clemson meet our commitment to make sustainability part of the educational experience for all students. 
Pursue the educational needs outlined in Clemson's sustainability action plan.
Advance the knowledge and behavior necessary for a Net-Zero energy campus. 
Help Clemson continue to attract top students, many of whom are passionate about sustainability. 
Help Clemson prepare students and South Carolinians for green jobs. 
Sustainability requires an understanding of issues that stretch across traditional disciplinary boundaries. Every college at Clemson has active research and education related to sustainability. The challenge, and the purpose of the IfS, is to coordinate and expand these efforts to make sustainability an integral part of the educational experience for all members of the Clemson family, including current students, alumni, faculty, staff, supporters and the people of South Carolina. 
To achieve this purpose, the IfS will have impact in the following areas:

Curricular opportunities including: sustainability-themed seminars; support for faculty who wish to incorporate sustainability in their courses; and a network of guest speakers and teaching modules on specific sustainability topics.    
Co-curricular opportunities including: service and civic engagement; collaboration with the administrative side of Clemson on sustainability topics (e.g. the Net-zero energy campus); incorporation of a sustainability-themed service requirement for students; and campus-wide sustainability education programs (e.g. speaker series).  
Leadership and outreach including: a website to share sustainability education materials and progress; collaboration with other regional institutions; and a network of Clemson speakers available to discuss a range of sustainability topics across South Carolina.  
Creative Inquiry
The Creative Inquiry program offers a unique combination of engaged learning and research that is tailored specifically to undergraduate students. There are numerous long term projects relating to sustainability that cover a wide range of topics. Students work in teams under a faculty member to tackle complex problems while at the same time expanding their curiosity and forming useful solutions.
Click here to view some of the Creative Inquiries that relate to sustainability.
Clemson Experimental Forest
The Clemson Experimental Forest (CEF) accounts for 17,500 acres of the surrounding Clemson area and acts as a major contribution to sustainability at Clemson University.  Since 1939, the University has managed the CEF, and has done so using sustainable forestry management practices to maximize the forest's products such as timber, water, recreation, wildlife, aesthetics, and clean air. The mission statement of the CEF states:
"The prime directive for the forest is to be a well-managed, self-sustaining, ecologically healthy, living laboratory, classroom and recreational resource for the benefit of the university, commerce and citizenry of South Carolina, vouchsafed with a mandate to protect and promote in perpetuity the forest as an irreplaceable educational, environmental, scientific and social asset."
By adhering to this overarching goal, the Experimental Forest has received certification as sustainable by the Sustainable Forestry Initiative, a third-party group of experts. In addition to providing a sustainable landscape, the CEF is utilized as an educational and research outlet. 37 Clemson courses use the Forest for field work or learning opportunities, as well as numerous research projects and Creative Inquiries.  
Clemson Student Organic Farm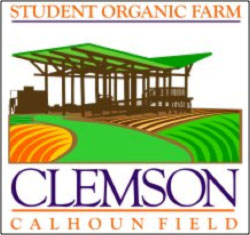 The Clemson Student Organic Farm (SOF) Project was established in 2001 and currently occupies approximately 5 acres of the Calhoun Field Laboratory. This area, located on the Clemson University campus, is dedicated to agricultural research, teaching, and public outreach programs. This location has a rich heritage of agricultural research going back to the days of John C. Calhoun and provides a perfect setting for the mission of the farm project. The SOF serves as a resource for experiential learning in sustainable agriculture and organic farming. The farm is operated primarily by students and is dedicated to production of high value vegetables, small fruit, herbs, and cut flowers. The SOF also serves as a site for undergraduate and graduate student research and Creative Inquiry projects.
The Student Organic Farm, certified organic in 2005, is a working demonstration farm and follows the National Organic Program rules which prohibit the application of synthetic fertilizers and pesticides.  Principles of permaculture are a foundation to all design aspects of the farm.  A certified organic greenhouse and high tunnel production area employ Bio-Integrated Season Extension (BISE) techniques for the production of transplants, vegetables, and tilapia.