Historic Cemeteries and the University:
The Power of Place and Community
October 7, 2021
9am - 8pm (EST)
Virtual Format
Between July 2020 and January 2021, hundreds of unmarked burials were recovered in Woodland Cemetery on the Clemson University campus using ground penetrating radar. White flags mark each burial plot. Some of the graves are believed to date back at least to the early nineteenth century. Sacred burial grounds like the one in Woodland Cemetery are intricately tied to communities, often African American or Native American, that existed long before higher education institutions were established. As the research and community engagement team at Clemson works to recover the history of this burial ground, we have invited scholars, community members, and professionals to discuss and engage in conversations with the public about historic cemeteries and the university during our first annual research symposium on October 7, 2021. The symposium is free and open to the public and will be held virtually. Registration is required to participate in the program. Click the link below to register. Your registration provides access to all of the panels and the introductory video of Woodland Cemetery. You may attend one, two, or three panels and/or the introductory video or stay logged on for the duration of the symposium.
Panel Discussions
Participants on four panels will discuss archeology, community engagement, including restorative justice, research strategies, and memorialization associated with historic cemeteries. Panelists will talk about a variety of historic cemeteries and/or burial grounds, including those for Native Americans and African Americans, as well as those located on university campuses, in local communities, and on personal property. Your registration provides access to all of the panels and the introductory video of Woodland Cemetery. You may sign on and off or stay logged on for the duration of the symposium. There will be a 10- to 15-minute break between each session. All sessions were recorded and are available to the public.
Archeology Methods and Analysis for Historic Cemeteries
9:00am - 10:15am (EST)
Sometimes human remains are recovered accidentally during construction projects, revealing an ignored or forgotten community cemetery. Other times community organizations like churches are unable to maintain their historic cemeteries as members age or relocate. Some have even found old cemeteries on new land they have purchased or through researching the history of institutions that engaged in secret burial practices. Recovering, documenting, and preserving unmarked and marked burials in historic cemeteries presents a variety of challenges. Panelists will discuss different archeological and analytical methods that can be utilized in exploring historic cemeteries, including those that are connected to multiple communities over time and those that have been recovered on university campuses.
Facilitator: Joshua Catalano, Assistant Professor and Coordinator of Public History Emphasis, Department of History, Clemson University
Geophysical and Non-invasive Approaches to Studying Historic Period Cemeteries
David Markus, Assistant Professor, Department of Sociology, Anthropology, and Criminal Justice, Clemson University
Bridging the Gap between and Broadening Our Knowledge about Known and Unknown Sacred Burial Spaces
Brian E. Gandy, County Historian and Director, Darlington County Historical Commission and Museum
"Knowledge Of This Cannot Be Hidden": Enslavement, Desecration, and Memorialization on the University of Richmond Campus
Shelby Driskill, Research Coordinator, Inclusive History Project, University of Richmond, Paths to the Burying Ground: Enslavement, Erasure, and Memory
Panelist Bios

Shelby Driskill, MFA, is an independent scholar and currently Research Coordinator at the University of Richmond. Her recent work has included the location of a burial ground linked to enslavement on the university's present campus and research that details the institution's exploitation of enslaved laborers at its two 19th-century locations.

Brian Gandy has been active in local historical organizations for 39 years and currently serves on numerous boards and foundations. His affiliation with the Darlington County Historical Commission and Museum began in 1986 as a volunteer. Today, he serves as its director, having expanded the collection and is in the process of adding a $4 million museum addition.

David Markus is an Assistant Professor of Anthropology at Clemson University. A historical archaeologist by training, Dr. Markus received his doctorate in Anthropology from the University of Florida in 2019 after attending the University of Arkansas and the University of Florida for his Master's and Bachelor's degrees respectively.
Engagement with Multiple Stakeholders on Campus and in the Community
10:30am - 11:45am (EST)
Historic cemeteries are often built by communities whose traditions, cultures, and religion are reflected in burial practices. In effect, these sacred sites tell stories about communities that are often omitted from history books or public history. Thus, restorative justice should be a central element of this work. The recovery, preservation, and memorialization of historic cemeteries involves multiple stakeholders. Panelists will discuss ways to engage children with the history of historic cemeteries in the classroom. They will also investigate how to meet the challenges of developing community engagement teams for this work, including successful collaborations between higher education institutions, local churches, and community organizations. Also, the establishment of a network that preserves and increases our understanding and appreciation of historic cemeteries connected to Black communities will be examined.
Facilitator: La'Neice Littleton, Postdoctoral Fellow in Public Humanities and African American Life, Call My Name Project and Humanities Hub, Clemson University
Panelist Bios

Shelby Davis Henderson, a native of Oconee County, serves the City of Seneca as Executive Director of Arts, History, and Culture. She is responsible for two museums, an archive, a gallery space, and a number of historic properties in the city of Seneca. She is also the Founding Director of the Bertha Lee Strickland Cultural Museum in Seneca and is serving her second 3-year term as District 3 Commissioner of the SC African American Heritage Commission.

Alexia Jones Helsley, Senior Instructor in History and university archivist at University of SC-Aiken, graduated magna cum laude from Furman University and holds MA from the UofSC. Recent publications include The Lost History of Aiken County and chapters in Recovering the Piedmont Past, II and Our Prince of Scribes: Writers Remember Pat Conroy. Hensley is the recipient of the Governor's Archives Award, chairs the SC Old Exchange Commission, and is Vice-President of the SC Historical Association.

Antoinette Jackson Ph.D. is Professor and Chair of the department of Anthropology at the University of South Florida (USF) in Tampa and Director of the USF Heritage Research Lab. Her most recent book, Heritage, Tourism, and Race—the Other Side of Leisure was published by Routledge in 2020.

Jeffrey A. Keith, Ph.D., was set to become a sixth-generation tombstone salesman, but discovered a different way to engage the past. He earned a doctorate in history, and now teaches courses on Appalachian studies and globalization at Warren Wilson College. He serves on the South Asheville Cemetery Association board of directors.

David Moore, Ph.D. spent 18 years with the North Carolina Office of State Archaeology before joining the faculty at Warren Wilson College in 2000. He is a founding member of the South Asheville Cemetery Association and has enjoyed more than 20 years of service to the cemetery.

Brian Stack is the Community Engagement Assistant for Clemson University's Woodland Cemetery Historic Preservation Project where he helps raise community awareness and engagement with the cemetery and the African American Burial Ground. He received a PhD in history from Washington State University in May 2021.
Introductory Video of Woodland Cemetery and the African American Burial Ground
Noon - 1:00pm (EST)
An introductory video of Woodland Cemetery and the African American Burial Ground at Clemson University in Clemson, SC, will be shown during the lunch break.
Archives as Memory: Collaboration and Discovery
1:30pm - 2:45pm (EST)
Archives collect and preserve the memory of their institution and community. Their records can retell the stories of places and unravel the mysteries within a community. Just like archives, cemeteries connect the people and the community. This panel will be a brief overview of the cemetery projects at the panelists' institutions that will lead into a discussion about the impact of archives in understanding the power of place and community. What is the role of the Archives? How can they be active members in the development of the understanding of these sacred places? are questions to explore during the session.
Facilitator: Brenda L. Burk, Head of Special Collections and Archives, Clemson University
The Naming Projects: Connecting Communities with Their Ancestors
Mary Beth Corrigan, Curator of Collections on Slavery, Memory, and Reconciliation, Booth Family Center for Special Collections, Georgetown University Libraries
What Little Remains: Demystifying the Old Athens Cemetery and Baldwin Hall at the University of Georgia
Steve Armour, University Archivist, Hargrett Rare Book and Manuscript Library, University of Georgia
Appreciating the Archival Voice: Collaboration and Partnerships in Historic Preservation Projects
Brenda Gunn, Associate University Librarian for Special Collections, Small Special Collections Library, University of Virginia
Panelist Bios

Steve Armour is the University Archivist at the University of Georgia's (UGA) Hargrett Rare Book and Manuscript Library. He provides archival research support for the History of Slavery at UGA project and participates in the national On These Grounds: Slavery and the University description project as a vocabulary test partner.

Mary Beth Corrigan, Ph.D., C.A., has helped the Booth Family Center for Special Collections assess its holdings related to slavery, plan for the digitization of the Archives of Maryland Province of the Society of Jesus, and supported faculty and student research projects on slavery.

Brenda Gunn is currently the Associate University Librarian for Special Collections and Preservation at the University of Virginia Library and has been a leader in professional organizations at the local, regional, and national levels for many years. Brenda is a certified archivist and a distinguished fellow of the Society of American Archivists.
Known and Unknown Burials: Storytelling and Memorialization for Historic Cemeteries
3:00pm - 4:15pm (EST)
How do you memorialize unmarked burials in historic cemeteries? How do you ensure that the monuments installed on marked burials stand the test of time? How do inscriptions on monuments tell stories about people and communities? How do you ensure that decisions regarding memorials and monuments include input from descendant communities? Or, "Who gets to speak for the dead?," a question The New Yorker posed and answered in a recently published article about a historic African American cemetery in North Carolina. Panelists will discuss the creation of collaborative teams, the politics of decision making, and the development of memorial spaces that are engaged with the preservation and memorialization of historic cemeteries.
Facilitator: Raymond Huff, Director, Clemson Design Center and Clemson Architectural Center, Charleston, SC
Graveyard Genealogies and Mortuary Museums
Lynn Rainville, Director of Institutional History and the Museums, Washington and Lee University
Clemson University Woodland Cemetery Working Group: Work in Progress
Katherine Schwennsen, Professor, School of Architecture, Clemson University
"That Sure Used to Be a Fine Graveyard": Old Athens Cemetery and Baldwin Hall at the University of Georgia
Scott Nesbit, Associate Professor, College of Environment and Design, History of Slavery at the University of Georgia
Panelist Bios

Lynn Rainville has a Ph.D. in Anthropological Archaeology. She studies Virginia's historic cemeteries, enslaved communities, and poor farms. This research is supported by multiple grants and published in dozens of articles and five books. She is the Director of Institutional History and the Museums at Washington and Lee University.

Kate Schwennsen, FAIA, Professor, is the former Director of the School of Architecture, Clemson University. She has held various leadership positions, with a focus on bridging architectural education and practice, women's leadership in architecture, issues of equity, diversity and inclusion in architecture, and advancing models of architectural education and practice.

Scott Nesbit, Ph.D. teaches History, Digital Humanities, and Historic Preservation at the University of Georgia in Athens. He earned his doctorate in History from UVa. in 2013. Before arriving in Athens, he developed projects related to race and the history of the American South at the University of Richmond's Digital Scholarship Lab.
Facilitated Conversations about Historic Cemeteries
Since starting the most recent phase of the preservation, restoration, and memorialization of Woodland Cemetery in the summer of 2020, we have received a steady stream of inquiries about all aspects of our work. These discussions, facilitated by members of our research and community engagement team on Zoom, offer you the opportunity to participate in conversations about historic cemeteries on the topics below. Registration, separate from that required for the symposium panels above, is required for each conversation. Click the link(s) below to register.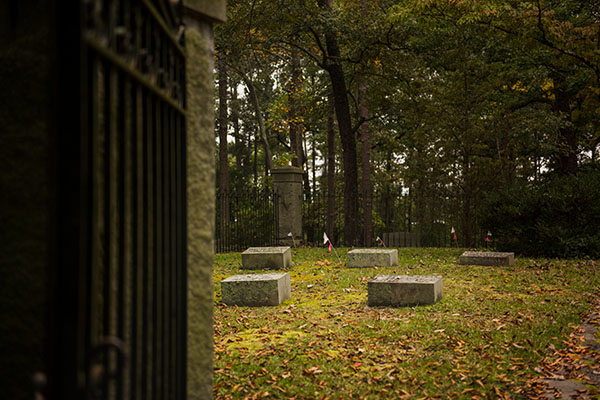 6:00pm - 7:00pm (EST)
Session 1 - Memorials, Monuments, and Markers in Historic Cemeteries
Facilitators:
Session 2 - Community Engagement, Collaboration, and Restorative Justice for Historic Cemeteries
Facilitators:
7:00pm - 8:00pm (EST)
Session 3 - Archival Research Methods and Strategies for Documenting Historic Cemeteries
Facilitators:
Session 4 - Archeology Tools and Techniques for Examining Historic Cemeteries
Facilitators:
This symposium is sponsored by the Legacy Council, Woodland Cemetery Project, Clemson University, and the City of Clemson.
If you have further questions about the Research Symposium, please email afamburials@clemson.edu or call (864) 656-8855.