Clemson University offers on-campus internet connectivity to all faculty and staff. In addition, guests visiting Clemson can gain access to the internet via our Clemson Guest network or Eduroam.
Network Registration
Internet connectivity is provided to all users when on campus. However, registration of all devices accessing the Clemson network must go through the 'NetReg" process. The NetReg system builds a dynamic table of equipment addresses and the user who registered it. This method is necessary in case there is an issue, such as a virus, and that person can be contacted directly. For a laptop that has both an Ethernet connection and a wireless connection, both connections will need individual registration.
There are two ways to "NetReg" devices: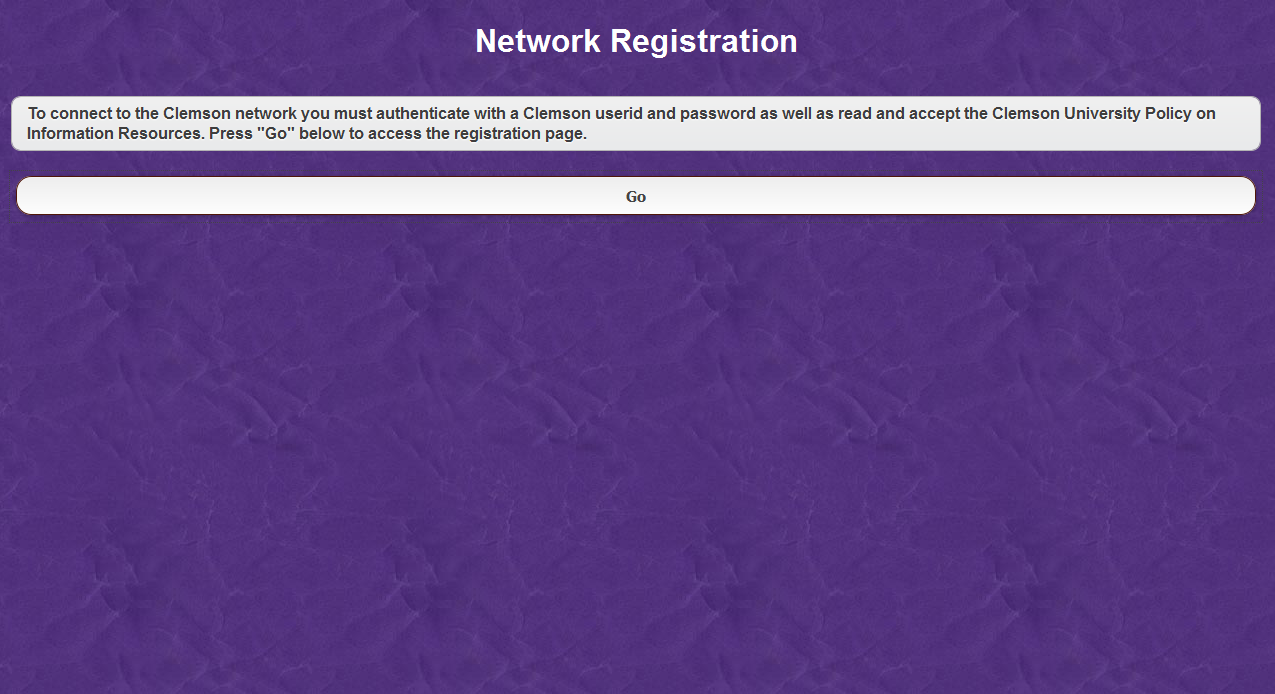 1. The MAC address can be put in manually by going to http://netreg.clemson.edu and adding a registration. In addition, this website shows a list of all equipment that the individual user has registered with Clemson University. Users can also manage their equipment registration by deleting old devices, if necessary.
2. Any new piece of equipment such as a laptop, desktop, tablet, cellphone, etc., when attempting to access the internet through Ethernet or wireless, will need to open a browser to register the device. Once the browser is open, a purple website is opened titled "Network Registration." Click "Go," fill out the device description and accept the University's network use policy.
Read the policy, and where it says "Device Description," enter your Clemson username, type of equipment (laptop, desktop, tablet, iPhone) and whether it is ethernet or wireless (e.g., your name, laptop, wireless). Then click "Accept" and restart the device.
Drive Mapping
In the past, the mapping of drives was automated through the use of Novell. That is no longer the case. Clemson has moved to the new ZFS storage structure so now drives must be mapped manually but will remain visible even after reboot. The drives that you may need are listed below with a link to a .rar file you can download to make the mapping easier. You must have Duo (2-factor authentication) set up first in order to access the file.
H and U drives: Windows | Mac (Mac Readme)
Reset Password
Your password is very important as a user at Clemson University. It has to be very strong and should not be revealed to anyone unless there is some mitigating circumstance. If you do give it out, CHANGE IT IMMEDIATELY afterward. Previously, the network operations group would force users to change their password every year. That is no longer the case. With the implementations of Duo, users will not be forced to change their password every year. If a password is changed, it must be different from the prior password. If you have ever used a certain password before, it can never be used again.
Read the full ID and Password Policy.
Go to the Password Change Utility.
Clemson VPN
VPN (Virtual Private Network): a network that uses a public telecommunication infrastructure, such as the Internet, to provide remote offices or individual users with secure access to their organization's network. VPN users can exchange data securely, as if inside an internal network although they are not directly interconnected.
Clemson University uses the Cisco AnyConnect Client in order to allow faculty, staff, graduate students and undergraduate students secure access to the network. To connect to Clemson via VPN, you must install the client located at cuvpn.clemson.edu.
Eduroam: Wireless Connectivity
Eduroam (Educaption Roaming) is the primary secure wireless network available to faculty, staff and students, using the WPA2 technology. It can be found not only on Clemson's main campus but also at many of the University's satellite areas such as Clemson's Greenville One campus and ICAR.
What makes Eduroam different from other wireless networks is that users can connect to the Internet at other participating colleges and universities, meaning that Eduroam is a portable wireless network connection. No longer will users visiting other colleges have to be put on the network by the college consultants. Users can access their devices, and their machines will automatically get a network connection.
To see which colleges and universities are currently Eduroam capable, click here: Eduroam
Reminder: If you are prompted to log into Eduroam, your username is your full clemson.edu email address (e.g., username@clemson.edu). For more information, go to wireless.
Clemson Guest
For visitors to Clemson's campus, Clemson has a wireless network for all campus guests which is broadcasted as "clemsonguest." The network is a provisioned-based solution, meaning that a UserID and Password have to be generated in order to gain access to the network.
There are two methods of provisioning a guest.
1.) The visitor can provision themselves when they are prompted at the Clemson Guest Wireless Portal. To provision an account, please click on "Create your guest account and password." A valid email address or cell phone number must be entered for SMS text messaging in order to receive their password.
2.) A designated provisioner can create the ID ahead of time and distribute to the guest prior to or upon arrival. This can be handled through IT Support, but a ticket must be placed in the TigerTracks system before the user arrives.
Wilbur O. and Ann Powers College of Business
Wilbur O. and Ann Powers College of Business | 343 Chandler L. Burns Hall, Clemson, S.C., 29634