Salvador A. Oropesa, Ph.D.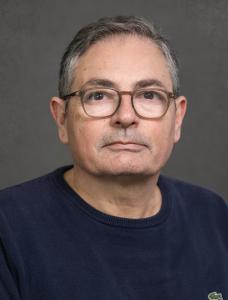 Professor of Spanish; Department Chair
Contact
Department of Languages
Office: 716 Strode Tower
Phone: 864-656-3544
Website: https://works.bepress.com/salvador-oropesa/
Email: oropesa@clemson.edu

Education
Ph.D., Arizona State University; MA, Universidad de Granada
Salvador Oropesa is a specialist in Spanish and Mexican literature and cinema. He is the author of five books and numerous articles and book chapters. His actual research interests are Spanish noir and the representation of Tangier (Morocco) in Spanish literature. Salvador is a Clemson Dad.
Professional/Research Links
https://orcid.org/0000-0001-7503-9346, https://scholar.google.com/citations?user=mBQhh4cAAAAJ&hl=en
Awards
• William L. Stamey Teaching Award, College of Arts and Sciences, Kansas State University
• Outstanding scholar and instructor, Mortar Board Honor Society, Kansas State University
• Phi Beta Kappa
Selected Professional Works
Journal Articles & Book Chapters (Published)
Bajarse al Sur: El Niño (2014) de Daniel Monzón y Bebedores de té (2017) De José Manuel Caamaño Sánchez. Reescrituras del género negro. Estudios literarios y audiovisuales. Eds. Javier Sánchez Zapatero y Álex Martín Escribà. Dykinson, 2022. 349-57
Fitzmaurice, Stephen and Salvador Oropesa. "American Sign Language: Innovations in Teaching and Learning in one of the Most Popular Languages." ADFL Bulletin 46.2 (2021): 93–97.
"De Lisbeth Salander a la Ertzaintza: Fantasías neoliberales en la serie procedimental de Eva García Sáenz de Urturi." Cosmic Wit. Essays in Honor of Edward H. Friedman. Eds. Vicente Pérez de León, Martha García and G. Cory Duclos. Juan de la Cuesta, 2021. 182–99.
"How to Study Contemporary Mexican Cinema: The Case of David William Foster." Chasqui 50.2 (2021): 39-47.
"El Camino (1950) de Miguel Delibes: lecturas rurales para la Generación Millennial ". USA y Miguel Delibes. Agustín Cuadrado Gutiérrez, ed. Fundación Instituto Castellano y Leonés de la Lengua, 2021. 33-46.
"Toward a Twentieth-Century Modernity: Unamuno's Paz en la Guerra." Approaches to Teaching the Works of Miguel de Unamuno. Ed. Luis Álvarez-Castro. Modern Language Association, 2020. 49-56.
"The Cozy Mistery in the María Oruña Series." Spanish Women Authors of Serial Crime Fiction. Repeat Offenders. Eds. Inmaculada Pertusa-Seva and Melissa Stewart. Cambridge Scholars Publishing, 2020. 204–16.
"La Ética de una Estética en Antonio Muñoz Molina". Barcarola 90-91 (Diciembre 2018-Enero 2019): 141-47.
College of Architecture, Arts and Humanities
College of Architecture, Arts and Humanities | 108 Strode Tower, Clemson, SC 29634