Jason Hurdich, M.Ed.; CDI (RID Certified Deaf Interpreter)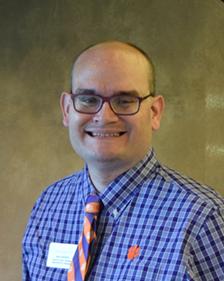 Lecturer of American Sign Language (ASL)
Contact
Department of Languages
Office: 702 Strode
Email: jhurdic@clemson.edu

Education
M.Ed. Signed Language Interpretation, University of North Florida (2013); B.A. Political Science, Boston University (1997)
Professor Jason Hurdich (Name Sign: JH), a Deaf native ASL signer, hails from New York City, the Big Apple. He attended the Lexington School for the Deaf as a toddler to valedictorian. Mr. Hurdich has instructed college-level ASL and interpreting classes for twenty-eight years, starting while still working on his BA degree in Political Science at Boston University. Mr. Hurdich received the Master of Education degree in Signed Language Interpretation from the University of North Florida in 2013.

Mr. Hurdich is a Registry of Interpreters of the Deaf (RID) Certified Deaf Interpreter, the first and only one to live in South Carolina. Mr. Hurdich is the only Deaf and ASL fluent person in the world to be certified in the Facial Action Coding System (FACS). In 1996, he received the Boston's Citizen Award: "For Outstanding Contributions towards the Quality of Life for Deaf and Hard-of-Hearing youth; and Promoting Deaf Awareness in the City of Boston," Presented by now-deceased Mayor Thomas M. Menino.

Besides, Mr. Hurdich has been called a "Rock Star" by Her Honorable and a fellow Clemson Alumnus, Governor Nikki Haley, for his role as an interpreter during Hurricane Matthew in 2016. Professor Hurdich enjoys watching college sports as an avid fan. During off duty, he enjoys spending time with family and checking out local coffee shops in Greenville and Western North Carolina. He enjoys creating social media content.
College of Architecture, Arts and Humanities
College of Architecture, Arts and Humanities | 108 Strode Tower, Clemson, SC 29634