Stephen Fitzmaurice, Ph.D.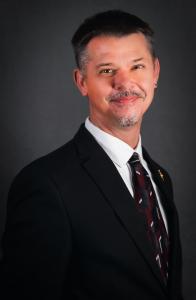 Associate Professor of Interpreting: ASL
Contact
Department of Languages
Office: 705 Strode; UCG CU 105
Phone: 864-431-7778
Email: sfitzma@clemson.edu

Education
Ph.D., Gallaudet University; M.I.P., Northeastern University; Certifications: CI, CT, NIC: A, NAD V, Ed: K12
Stephen Fitzmaurice is an Associate Professor of Interpreting: American Sign Language (ASL), and lead faculty for the ASL-English Educational Interpreting program. Stephen earned his Ph.D. in Interpretation from Gallaudet University and a Master of Interpreter Pedagogy degree from Northeastern University. He has earned several national interpreter certifications from the Registry of Interpreters for the Deaf, the National Association of the Deaf Master Interpreter Certification and the Educational Interpreter Performance Assessment. Stephen is the Director of the South Carolina Educational Interpreting Center and has worked as a professional ASL-English interpreter for over twenty-five years. Dr. Fitzmaurice lectures extensively on developing interpreting skills for in-service ASL-English interpreters and has scholarly interests spanning: applied linguistics; sociolinguistics; literacy development of Deaf children; and educational access via interpreting services. I love working at Clemson because ASL is under the Department of Languages and not a disability or communication disorders department. I also love working at Clemson because we have an amazing team of researchers finding the answers to important questions and great teachers sharing the language we love with students. Our Clemson students are among the brightest, most talented in the entire country with a passion for learning!
Professional/Research Links
https://works.bepress.com/stephen-fitzmaurice/
College of Architecture, Arts and Humanities
College of Architecture, Arts and Humanities | 108 Strode Tower, Clemson, SC 29634