Schott, Joseph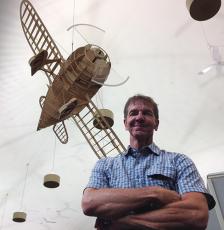 Position
Lecturer
Contact
Email: jschott@clemson.edu

Education
M.Arch., University of Illinois Chicago (1992); B.S., Miami University (1989)
Joseph Schott has worked in the construction industry since 1987, and was conferred a Master of Architecture Degree from the University of Illinois-Chicago in 1992. Over a thirty year period his experience has included a wide variety of building types including; office buildings, medical facilities, multi-family residential projects, high-rise residential structures, banks, schools, retail stores, performing arts facilities, recreational facilities, parking structures, lodging and conference centers, and numerous private residential projects. Schott served as VOA's Lead Designer for the Illinois Department of Natural Resources Headquarters. The IDNR project received an award for excellence in design from the Chicago Chapter of the American Institute of Architects.
In 2002 Schott established a Design/Build practice in Connecticut. Since 2002 he has designed, constructed and collaborated on over one hundred residential, commercial, and educational projects. The Fearey Residence in Edgartown, Massachusetts received a design award from the Connecticut Chapter of the American Institute of Architects.
Since 1994, Schott has been actively involved in teaching architecture; as an Adjunct Professor for the University of Illinois-Chicago, as Guest Lecturer for the Illinois Institute of Technology Foreign Study Program, and as a volunteer. Schott designed and constructed the Westport Library's MAKERSPACE, and was named the Westport Library's first Maker-in-Residence The Learning Community, The Eagle Hill School, King School, Fairfield Continuing Education Program, Mill Hill Elementary School, and the Pequot Library have also hosted experiential learning projects designed and conducted by Schott.
For the 2016 spring term, Schott served as a Lecturer at Clemson University's School of Architecture. In the fall of 2016, Schott was a Professor-in-Residence at the Clemson University satellite campus in Genova, Italy. An exhibition of Schott's work entitled "Imaginate, Iterate, Re-iterate" was on view at the Westport Library from March to June 2016. In May of 2016, Schott exhibited work by Clemson University Architecture Students, and conducted public workshops as New Canaan Public Library's first Artist-in-Residence. The exhibition, "Studies in Architecture" consisted of ten student proposals for redevelopment of the New Canaan Library. In May of 2017 The Embassy of Italy in Washington, D.C. hosted an exhibit "Back from Italy," that included student work prepared in Genova during the 2018 Spring Semester.
Schott's ongoing projects include: The Vehicle Alphabet, Starling, The Gossamer Project, and ART is Everyday.