Ford, Frances H.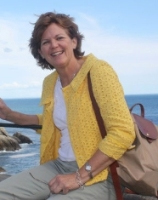 Position
Lecturer, Conservation Lab Specialist, Historic Preservation
Contact
Email: fordf@cofc.edu
Education
M.S. in Historic Preservation, University of Pennsylvania; B.A. in Historic Preservation, College of Charleston
Frances Henderson Ford has both undergraduate and graduate degrees in Historic Preservation (College of Charleston, 2003; University of Pennsylvania, 2006). She has had a long-standing interest in materials conservation, and in graduate school concentrated in that area, particularly the field of paint and ornamental plaster conservation. She currently works an as independent conservator as well as heading conservation initiatives for Richard Marks Restoration, a nationally known restoration contracting company based in Charleston. In addition to her work focusing on historic interiors, she is much in demand for her skills in cemetery restoration and stone conservation, and has been entrusted with the repair of some of the oldest graves in Charleston.
Frances is an active scholar as well as a practitioner, and has participated in conferences up and down the east coast, as well as internationally, most recently presenting at the 2nd Historic Mortars Conference in Prague, Czech Republic. She has a long-standing interest in the important 19th-century Philadelphia marble mason, John Struthers, and has presented a paper on the Struthers tomb of George Washington at Mount Vernon. She continues to research and document the work of Struthers and his company. She serves as conservation lecturer and laboratory manager for the Clemson/College of Graduate Program in Historic Preservation teaching HP 810 Conservation Lab, HP 811 Advanced Architectural Conservation and HP 819 Investigation, Documentation and Conservation.