White, Benjamin L.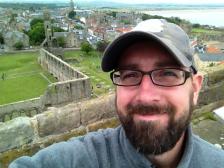 Position
Associate Professor of Religion
Contact
Office: 222 Hardin
Phone: 864-656-7907 x19
Email: bwhite5@clemson.edu

Education
Ph.D., University of North Carolina at Chapel Hill
Dr. White (PhD, UNC-CH) is a scholar of ancient and modern interpretations of the New Testament, the reconstruction of Christian origins, and the development of early Christianities. He is particularly interested in the figure of Paul in Christian theopolitical discourse, as well as the intersection of memory, historiography, and ideology in the development of Pauline traditions. His book, Remembering Paul: Ancient and Modern Contests over the Image of the Apostle, was published by Oxford University Press in 2014. His research articles have appeared in the Journal for the Study of the New Testament, The Journal of Early Christian Studies, and Vigiliae christianae, among other places. At Clemson, Dr. White directs the BA in Religious Studies and leads study abroad trips to various locations in the Mediterranean region, including Turkey, Greece, and Italy. Prior to coming to Clemson, he was a member of the faculty of North Carolina Wesleyan College, serving as Program Coordinator for the Religious Studies program there.