Thomas, Rhondda Robinson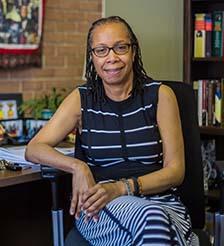 Position
Calhoun Lemon Professor of Literature
Contact
Office: 812 Strode
Email: rhonddt@clemson.edu

Education
Ph.D. English, University of Maryland; M.A. Literature, University of New Hampshire; M.S. Journalism, University of Georgia; B.S. Communication/Media Journalism, Columbia Union College
Focus: Early African American Literature
Research Interests
Rhondda Thomas's research and teaching interests are early African American literature and culture, politics of black identity, autobiographical scholarship, African American literature and the Bible, race and culture studies, African American historiography, migration narratives, and African American women writers.
Selected Professional Works
Books (Published)
The South Carolina Roots of African American Thought, A Reader, co-edited with Susanna Ashton. Columbia: University of South Carolina Press, 2014.
Claiming Exodus: A Cultural History of Afro-Atlantic Identity, 1774-1903 Waco, TX: Baylor University Press, 2013.
First edited and annotated edition of Jane Edna Hunter's autobiography A Nickel and a Prayer. 1941. Regenerations series. Vol. 2. Morgantown, WV: West Virginia UP, 2011.
Journal Articles & Book Chapters (Published)
"Reconstruction, Public Memory, and the Making of Clemson University on John C. Calhoun's Fort Hill Plantation," American Literary History, 30 July 2018.
"Locating Slave Narratives." Oxford Handbook of the African American Slave Narrative. Ed. John Ernest. New York: Oxford UP, 2014.
"'Slaves of the State': Convict Labor and Clemson Land and Legacy." South Carolina Review 46 (Spring 2014).
Guest co-editor with Angela Naimou of themed-issue of the South Carolina Review, "Locating African American Literature" 46 (Spring 2014).
"The First Negro Priest on Southern Soil: Rev. George Freeman Bragg, Jr. and the Struggle of Black Episcopalians in the South, 1824-1909." Southern Quarterly, Jubilee Edition (Fall 2012).
"Exodus and Colonization: Charting the Journey in the Journals of Daniel Coker." African American Review 41:3 (2007).
Journal Articles & Book Chapters (Accepted or Submitted)
"Auto/biographical Black Print Culture Before 1800," chapter, A History of African American Autobiography, Cambridge University Press forthcoming.
Reviews & Interviews
Review of Celeste-Marie Bernier, Characters of Blood: Black Heroism in the Transatlantic Imagination (2012), Journal of American History, April 2013.
Conference Presentations (Delivered)
"Teaching the Literatures of the American Civil War," Roundtable, invited panelist, Modern Language Association Conference, Philadelphia, January 2017.
"Innovative Approaches to Commemoration, Race, and Place: A Conversation with Rhondda Robinson Thomas," featured panelist, Southern States Communication Association Conference, Greenville, SC, April 2017.
"Taking Stock of 18th-Century African American Literature in Transition," Respondent, Omohundro Institute of Early American History & Culture, June 2017.
"Of Slaves, Sharecroppers, and Convict Laborers: Unsettling Clemson University's Public History," 19th-Century Black Lives Matter: Unsettling Interventions in African American Literary and Cultural Studies, Pennsylvania State University, March 2016.
"Recovering Jane Edna Hunter Digitally," Teaching Recovered Women Writers: Digital Options Roundtable, invited panelist, American Literature Association Conference, San Francisco, May 2016.
"Interdisciplinary Perspectives on the Public Memory and Commemoration of Racial Violence," roundtable, invited panelist, Southern Historical Association Conference, St. Petersburg Beach, FL, November 2016.
"Locating Slave Narratives," Reframing Slave Narratives—A Roundtable in Honor of William L. Andrews, C19 Conference, University of North Carolina, Chapel Hill, March 2014
"Reconstructing 19th-Century African American Life in Upcountry South Carolina through the Archives," African American Expression in Print and Digital Culture Conference, University of Wisconsin, September 2014.