Rachel Mayo, Ph.D.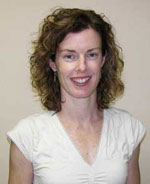 Assistant Professor, Public Health Sciences
Contact
Affiliated Faculty, External To CAAH
Office: 519 Edwards Hall
Phone: 864-656-7435
Email: rmayo@clemson.edu

Education
Ph.D., Arnold School of Public Health, University of South Carolina; M.A., University of Arkansas; B.S., University of Arkansas
Dr. Mayo's research interests include cancer prevention and control and health disparities among minority and underserved, particularly African American and Latino populations. She has been the principal or co-investigator on more than $2 million in grants and contracts to support her work. She currently serves as co-P,I with Dr. Windsor Sherrill, on a National Institutes of Health grant, "Student Provider Perceptions of Latino Patients in Cancer Care Settings" to examine medical and nursing students' readiness to treat Latino patients. She also is the Clemson PI of "The South Carolina Cancer Disparities Community Network II-The Witness Project", a National Cancer Institute grant collaboration with USC (Dr. James Hebert, PI) to train breast and cervical cancer survivors to "witness" about their experience with cancer in African American churches to increase participation in breast and cervical cancer screenings. Since 2008, this program has reached over 2,000 women.
College of Architecture, Arts and Humanities | Women's Leadership
College of Architecture, Arts and Humanities | Women's Leadership | 256 Sirrine Hall, Clemson, SC 29634