Maria Bose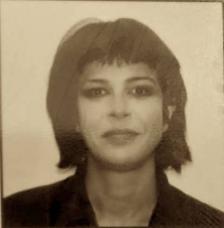 Assistant Professor
Contact
Office: 809 Strode
Email: mbose@clemson.edu

Education
Ph.D. English, University of California, Irvine (2017); B.A. English, Stanford University
Courses
contemporary film and media; cultural materialism; cultural politics
Book Projects:


My book-in-progress, Cinema's Hegemony: Medium & Empire at the Start of the Asian Century, reads nationalist genres as critical cathexes for the film industry's twenty-first-century self-understanding: tightly reflexive sites of industrial articulation keyed to preserving cinema's preeminence within increasingly diversified landscapes of media and mediatization. The book responds to the "death of cinema" claims that began circulating in the early nineties, when digital turns in media production and distribution, in tandem with the growing popularity and expanding entertainment market share of various "new media," conditioned the perception that film as a medium and industry was under existential threat. Rather than endorse or refute that perception, I argue instead that film cathects its existential anxieties and seeks to rationalize its persistence as a privileged social medium and culture industry by way of the nationalist genres that have historically consolidated its relation to the hegemonic state. Surveying nationalist films of the past two decades—those emanating from the production centers of rising hegemons (China, India) and falling ones (the US, the UK) over the course of global economic rebalancing toward Asia—the book recognizes levels of theoretical sophistication and practical self-interest for which these genres are rarely given credit. Acutely diagnostic post-imperial nostalgias animate American and British docudramas about the wars in Afghanistan and Iraq, which variously worry the twenty-first-century dominance of Asian capital, and cannily attribute Anglo-American declension to deindustrialization's foreclosure of competitive and autonomous US and UK manufacturing bases. Equally acute neo- and sub-imperial anxieties subtend Chinese and Indian counterterror thrillers, which conversely worry these states' developmental advance from industrial-authoritarian to postindustrial-neoliberal regimes, even as they exploit the latter's technological flexibility to serve the mandates of market freedom and state control, both. Those nostalgias and anxieties channel crises of imperial breakdown and neo- and sub-imperial buildup in complex fashion. But their overarching goal isn't, counterintuitively, the production of nationalist propaganda. Rather, these films extend nationalist genres' traditional propaganda functions in ways calibrated to reaffirm the unity of cinema and state in an advanced global system whose imbrication and volatility threaten the integrity of both. They do so, I suggest, not by recommitting cinema to the production of bombastic nationalist imagos but rather through the parallel construction of cinema and state's twenty-first-century reckonings.
I'm also completing three series of essays—on race, environment, and videogames.
I currently serve as treasurer on the board of the Association for the Study of the Arts of the Present (ASAP).
Selected Professional Works
Journal Articles & Book Chapters (Published)
"Distantly Reading Race in the Contemporary 'Postrace' Novel," Textual Practice 35.1 (2021): 39-55
"Virtual Flânerie: Teju Cole and the Algorithmic Logic of Racial Ascription," C21 Literature: Journal of Twenty-First-Century Writings 7.1 (2019): 1-29
Allegories of 'Postracial' Capitalism: Colson Whitehead and the Materials of Twenty-First-Century Black Cultural Authorship," Critique: Studies in Contemporary Fiction 60.4 (2019): 419-431
"Immaterial Thoughts: Brand Value, Environmental Sustainability, and WALL-E," Criticism 59.2 (2017): 247-277.
"Branding Counterculture in Pynchon's The Crying of Lot 49," Studies in American Fiction 43.1 (2016): 73-96.
Reviews & Interviews
Understanding Colson Whitehead: Revised and Updated Edition by Derek C. Maus, Studies in the Novel 53.3 (2021)
Vicious Circuits: Korea's IMF Cinema and the End of the American Century by Joseph Jonghyun Jeon, Critical Inquiry 47.2 (2021): 408-410
Digital Works, Videos, CDs & DVDs, Software (Published)
"Still Made in China," Clemson Humanities Now (3 Aug 2020)
"Branding Sustainability," Between the Lines (29 Sept 2015)
"They're At It Like Were-Rabbits," Cherwell (14 Oct 2005)
Grants
Lightsey Faculty Fellow, Clemson University (2020-21)
Tigers Advance Grant, Clemson University (2020)
Curriculum Development Grant, Global Engagement, Clemson University (2018-20)
Watt Faculty Fellow, Clemson University (2018-19)
Professional Development Grant, English Department, Clemson (2017-2020)
College of Architecture, Arts and Humanities | Interdisciplinary Programs
College of Architecture, Arts and Humanities | Interdisciplinary Programs | 256 Sirrine Hall, Clemson, SC 29634