In the spring of 2022, a new Inclusive Excellence Committee was publically launched in the Automotive Engineering department to:
Evaluate the current climate and strengths of the department in the context of DEI,
Identify areas for improvement and propose solutions, and
Generally promote departmental interactions that are mindful/empathetic of cultural and identity differences.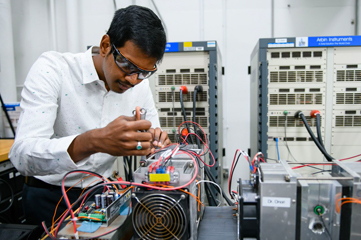 The work of the AuE Inclusive Excellence committee will be perpetual and will evolve over time. As an initial step, the committee advocate for academic/university policies that promote inclusive excellence at the college and university level, and draft AuE policies and procedures to advance inclusive excellence within AuE.
To provide feedback or recommendations to the committee, please email auedei@clemson.edu
Photo: Tata Fellow Sachin Ganesh Uma Maheswaran works on a project oversaw by Dr. Brij Khorana.