News and Events
Clemson scholar's new book examines 'America's Revolutionary Mind'
A newly released book by Clemson University faculty member C. Bradley Thompson reinterprets the American Revolution – from the reasoning and moral principles of revolutionaries before 1776 to their attempts at creating new Revolutionary societies after 1776.
America's Revolutionary Mind: A Moral History of the American Revolution and the Declaration that Defined it explains the principles and significance of the Declaration of Independence as the embodiment of the American mind. Read more about Thompson's book.
Dr. Stephen Hicks
Professor of Philosophy, Rockford University
Executive Director, Center for Ethics and Entrepreneurship
The politicized battles over education are mostly not about politics but about philosophy. Policy battles are heated not only because the practical stakes are high but because they affirm or deny entire philosophies of life. In his talk, Dr. Stephen Hicks pits postmodern against Enlightenment philosophy to highlight why and how liberal education is now subject to strong critique and institutional abandonment.
Dr. Michael Hoffpauir is the Associate Director of the Lyceum Scholars Program and a Clinical Assistant Professor of Political Science. We sat down with Dr. Hoffpauir and asked him about his background and what he is working on here at the Institute. Read more here.
Dr. John Pascarella was appointed as our 2018-2019 Hayek Visiting Scholar. We sat down with Dr. Pascarella and asked him about his background and what he worked on here at the Institute. Read more here.
The Fall 2018 Pope Lecture was delivered by Roger Kimball on "The Long March: How the Cultural Revolution of the 1960s Changed America."
The Decline and Fall of American Higher Education - and the Prospects For its Rebirth
Professor Mark Bauerlein gave a private lecture for students in the Lyceum Program on "The Decline and Fall of American Higher Education - and the Prospects for its Rebirth." Dr. Bauerlein teaches English Literature at Emory University. He has written several books on the state of higher education and publishes in popular periodicals as Chronicle for Higher Education, The Washington Post, The Wall Street Journal, The Weekly Standard and The Times Literary Supplement.
CISC Executive Director C. Bradley Thompson delivered the APEX lecture at Southern Utah University, which discusses the importance of the Liberal Arts and its integration into higher education. Watch his lecture "Liberal Education and the Quest for Truth, Greatness and Freedom."
US Representative Trey Gowdy Speaks to Lyceum Students
US Representative Trey Gowdy met with students in the Lyceum Program and spoke about how he decided to become a politician - and why he was retiring from public office.
Yaron Brook, Chairman of the Board of the Ayn Rand Institute, delivered the Spring 2018 Pope Lecture: "Capitalism vs. Socialism: Which is the Moral System?"
Free Speech panel with Dave Rubin, Jordan Peterson and Onkar Ghate. Free speech is under assault on America's college campuses. Increasingly, college campuses are being defined by censorship, indoctrination, political correctness and violence. Can anything be done to stop the assault on free speech?
First Graduates of the Lyceum Scholars Program Set a High Standard
We are proud of our recent Lyceum graduates. Read here about how being a Lyceum Scholar has helped these students move to the next stage of their lives.
Lyceum Scholars Program at Clemson Spring Blitz
CISC attended Clemson's Spring Blitz Expo to talk to high school Juniors about the Lyceum Scholars Program.
Our Spring 2016 Pope Lecture was a great success!
Alan Charles Kors, co-founder of the Foundation for Individual Rights in Education (FIRE), delivered a scathing indictment on free speech on college campuses to about 180 students, faculty and local residents. He discussed the covert system of justice on college campuses, exposing the widespread reliance on kangaroo courts and arbitrary punishment to coerce students and faculty into conformity.
CISC teamed up with the Institute for Humane Studies and brought the noted political philosopher Eric Mack of Tulane University to campus.
Professor Mack gave an interesting talk on "Self-Love, Cooperation and Justice: The History of Moral, Political and Economic Thought." He discussed how Hugo Grotius (1583-1645), John Stuart Mill (1806-1873) and F.A. Hayek (1899-1992) - all major political philosophers - influenced the history of ideas.
CISC Executive Director C. Bradley Thompson in Chile
Our Executive Director C. Bradley Thompson spent a week down in Santiago, Chile, teaching students free-market principles via The Fund for American Studies (TFAS) program, Institute for Leadership in the Americas.
About 50 students came to Santiago from across South America to study economics, political theory, the bases for the rule of law and institutional governance.
CISC Social Media Takes Off
80,000 Views, 1,000 Shares
CISC has started to have a greater impact on social media. We posted a quote by Professor Peter Boettke from George Mason University on our Facebook page that went "viral" with over 80,000 views and 1,000 shares. Take a look at our Facebook page and be sure to click "Like" to get updates.
George F. Will at Clemson
Pulitzer Prize-winning columnist George F. Will came to Clemson University on November 5, 2015, to give our Fall John W. Pope lecture. About 700 people were in attendance and gave several standing ovations.
The talk was entitled, "America's Great Debate: James Madison vs. Woodrow Wilson," and outlined the battle between limited government and big government. Mr. Will provided the following description for his talk:
"American political thought can be understood as an argument between two Princetonians - James Madison and Woodrow Wilson. Madison represents the natural rights, limited government tradition. Wilson represents the progressive rejection of that tradition, a rejection rooted in the idea of a 'living Constitution' that impose negligible inhibitions on government, and especially executive, power."
Mr. Will is one of our most widely read political writers. His popular twice-weekly column for The Washington Post syndicate reaches nearly 475 newspapers throughout the United States and Europe.
Lunchtime Lecture: Capitalism and the Rise of the Wealth Creating Society
Exciting lecture hosted by Clemson Institute for the Study of Capitalism and the Clemson Department of Economics
In mid-October, 2015, the Clemson Institute and the Clemson Department of Economics invited Professor Art Carden to campus to give a lunchtime lecture to students. He gave a very interesting lecture on Capitalism and the Rise of the Wealth Creating Society. More than 30 students and faculty attended.
Dr. Carden teaches Economics at Samford University and is widely published in both academic journals and the popular press. He is known for his work on capitalism and the market process.
He is currently working on a book, co-authored with Deirdre McCloskey titled, "Leave Me Alone and I'll Make You Rich: How the Bourgeois Deal Made the Modern World."
Introducing our 2015-2016 Hayek Visiting Scholar
Kimberly Hale was appointed as our 2015-2016 Hayek Scholar. We sat down with Dr. Hale to ask her a few questions about her background and what she worked on here at the Institute.
CISC: Where are you from?
KH: Surgoinsville, Tennessee
CISC: What did you study?
KH: Political Theory at Louisiana State University
CISC: What did you do your dissertation on?
KH: Sir Francis Bacon's New Atlantis, titled: The Lost City: Examining the Relationship Between Science, Philosophy, and the Atlantis Myth
CISC: What did you find fascinating about this topic?
KH: I was fascinated by the way science and political philosophy interact in Francis Bacon's work. I believe that the principles of classical liberalism are essential for maintaining a free society. At the same time, modern science and technology have irrevocably changed the way we understand politics. The political, philosophical and scientific ideals of the Enlightenment find their origin in the thought of Bacon. I wanted to investigate that further.
CISC: What are you working on now?
KH: I am working on my second book, which is expected to be published in Spring 2016 in Lexington Books Politics, Literature and Film Series. It looks at genetic engineering and artificial intelligence in film. It is part of a larger project that looks at the intersection of political thought and science policy.
My first book was published in 2013 by Lexington Books. It is entitled: Francis Bacon's New Atlantis in the Foundation of Modern Political Thought. It looks at Plato's Atlantis Myth, Bacon's New Atlantis and Condorcet's "Fragment on the New Atlantis."
CISC: Apart from working on your new book, you are also teaching here at Clemson University. What are you teaching and what has been your experience so far?
KH: This semester, I am teaching American Political Thought, in which we study American political philosophy from the 17th century to the present with emphasis on political and social developments since the 1770's. The students are mostly sophomores and juniors and are very enthusiastic and excited about the topic.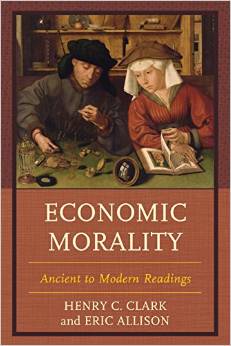 New Book Announcement
Economic Morality: Ancient to Modern Readings
The Clemson Institute for the Study of Capitalism is pleased to announce that Lexington Books has published "Economic Morality: Ancient to Modern Readings" edited by past CISC Visiting Professor Henry C. Clark and CISC Associate Director Eric Allison.
This anthology of primary source readings traces the history of moral assessments of economic life from Plato and Aristotle's comments on the early market economy of classical Greece to 20th-century defenses and critiques of contemporary capitalism.
The volume includes selections from: Plato, Aristotle, Cicero, Ovid, Plutarch, The Bible, The Koran, Hugh of St. Victor, Francis of Assisi, Thomas Aquinas, St. Benedict, Ibn Khaldun, Benedetto Cotrugli, Thomas More, Martin Luther, Hugo Grotius, Thomas Hobbes, Pieter De la Court, John Locke, Bernard Mandeville, Voltaire, Montesquieu, David Hume, Jean-Jacques Rousseau, Adam Smith, Benjamin Constant, Alexis de Tocqueville, Pierre-Joseph Proudhon, Karl Marx, Frederic Bastiat, Henry Thoreau, Samuel Smiles, William Graham Sumner, Andrew Carnegie, Pope Leo XIII, Georg Simmel, Max Weber, Marcel Mauss, John Maynard Keynes, Ludwig von Mises, Ayn Rand, Friedrich Hayek, Milton Friedman, John Rawls, Robert Nozick, Daniel Bell and Irving Kristol.
Public Lecture from Steven Simpson
In the aftermath of the Paris and Copenhagen attacks, many voices rose in defense of Charlie Hebdo and its right to publish cartoons offensive to Muslims. But that support quickly gave way to questions about the limits of free speech. Does the right to free speech really include the right to offend?
In this talk, Steve Simpson explains why our culture of sensitivity reveals a troubling ignorance about the importance of free speech and a growing opposition to its protection. He shows the similarities between the ideas that underlie our culture of sensitivity and those that motivated the attacks in Paris and Copenhagen and why you should be concerned about this important issue.