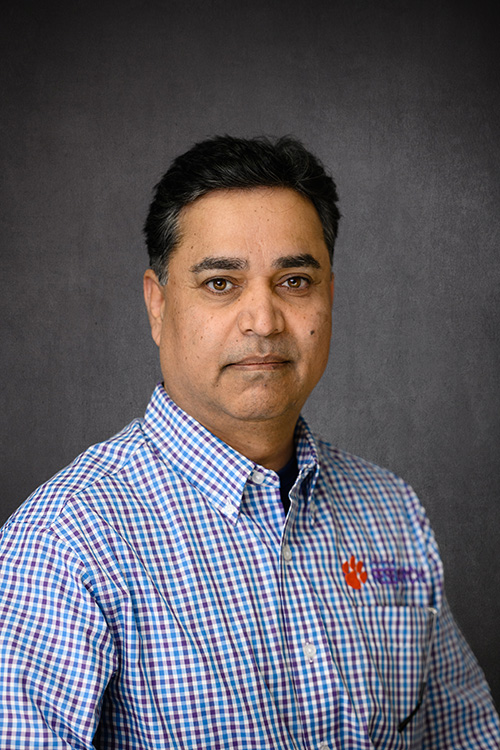 Director
Electron Microscopy Laboratory, Clemson University
lsaraf@clemson.edu
Education:
B.Sc. Physics, Mathematics, Electronics (1990)
M.Sc. Physics, (1992)
Ph.D. Applied Physics (Materials), (1999)
Working under the authority of and reporting directly to Clemson University Vice President for Research, Dr. Lax Saraf is currently managing and directing the Electron Microscopy Facility located at Clemson University. He is responsible for supervision EM Facility staff team. Dr. Saraf is a materials scientist/applied physicist in solid state (condense matter) physics with over 25 years of extensive research and development experience in the universities, national lab and industry related to synthesis of advanced materials, oxides/metals/semiconductors thin films. His research on specialized ceramic (oxides) materials was carried out for ferroelectric, microwave, optical, ion transport and superconducting applications. Over the past 18 years, Lax has managed multi-user Electron Microscopy, Thin Film Deposition and Micro-fabrication facilities at Clemson University and US Department of Energy's national scientific user facilities at Environmental Molecular Sciences Laboratory located at Pacific Northwest National Laboratory (PNNL). Lax was appointed on user facility manager's council to advice new lab safety implementation, user interactions and communicate strategy changes to managers.
Research Expertise: Electron Microscopy, Fundamentals of Solid Oxide Fuel Cells, Analysis of Li-ion battery cathodes using electron microscopy, Semiconductor material development for Photovoltaics and Solar Cells, Application of Micro/nano-fabrication technology, Nanoscale interface effects in oxides & transport properties, Utilization of microscopic analysis techniques for advanced energy materials, High Frequency Microwave/Magnetic Materials, optical ceramics.
History: Research Assistant, Univ. of Pune, 1992-1997, Research Assistant, University of Maryland, College Park, 1997-1998, visiting researcher from UMD - Corning Applied Technologies, Woburn, MA, 1997-1998. Post-doctoral Scientist at Department of Physics and Department of Materials Engineering at the University of Maryland, College Park, MD, 1999-2001. Research Scientist at PNNL, 2002-2003, Senior Research Scientist at PNNL, 2003-2012. Lab Manager, Micro-fabrication Facility, PNNL, 2002-2008, Lab Manager, Thin Film Deposition Facility, PNNL, 2003-2007, Lab Manager, Electron Microscopy Facility, PNNL, 2008-20012, Director of Electron Microscopy Facility at Clemson University, 2013-Current.
Awards: URSAA Award (2018 - Inaugural class): University Research, Scholarship, and Artistic Achievement Award recognizes Clemson University faculty who have achieved the highest levels of national and international recognition. Faculty selected for URSAAA recognition are lifetime appointees invited to participate in an annual celebration. R&D 100 Award, (top 100 innovations in the world) for the development of Graphene Nanostructures for Li-ion Batteries, 2012, Recognition: Graduate Students Mentorship - Summer Research Institute, 2004-2007, Exceptional Career Performance Award, 2006, Recognition: Dept. of Homeland Security mentor Fellowships, 2005 & 2006, Manager of the Year Award - EMSL, 2005, Recognition: Student Mentorship - Richland (WA) School District, 2004-2008, Outstanding Performance Award – EMSL, 2004, Nominated: PNNL Lab Director's Award for outstanding contribution in S&E education.
Reviewer: NSF Proposals, Industry proposals, several scientific articles reviewed for Journal of Electrochemical Society, Physical Review, American Vacuum Society, Materials research society, DOE Journal of Undergraduate Research and Journal of Applied Physics, Journal of Physics and Chemistry of Solids, J. Vacuum Science and Tech and Surface and Interface Analysis.
Publications: Author/co-author of over 140 publications in scientific journals, conference publications, invention reports and book chapters. Details are here.
Professional Activities: Symposium Organizations, Conference Session Chair, Several national and international conference presentations as invited speaker. Project managements, Lecturer, (teaching) classes as a part of PNNL/Univ. of Washington/ Washington State Univ. nanomaterials synthesis and characterization courses. Supervised graduate students and junior faculty, guest lectures at Clemson University in various departments, Workshop organizations, Acquisition of large, high dollar scientific capabilities, team member for several review teams and awards committees.