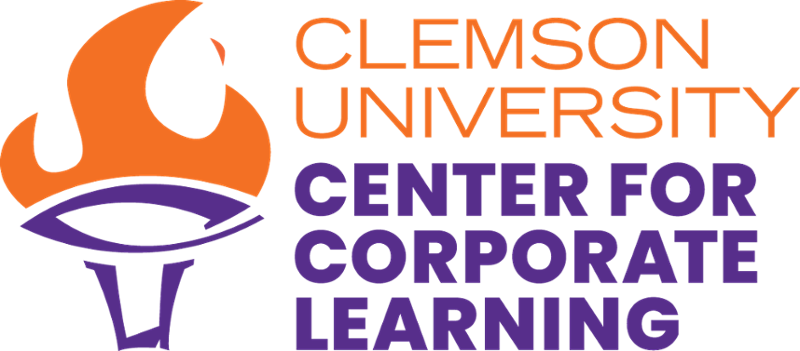 Every organization is unique. Our programs are designed to tap into your team's inherent skills and arm you with the specific disciplines, teachings and processes that ensure growth and success.
Our goal is to provide real-world solutions for the challenges you face in the corporate arena. We design executive development and education programs for a wide range of businesses—from start-ups to Fortune 500 companies. Armed with the resources of Clemson University, our mission is to give business leaders the training and education necessary to implement sustainable business growth and operational efficiencies.
Leadership & Management
Successful leadership in today's world requires a number of multi-faceted skills and relationship strengths.
Agile Scrum
Business Strategy
Executive Retreats
Finance and Accounting
High-Performance Team Building
Leadership Development
New Manager Development
Performance Management
Project Management
People Tools for Change
Leading Innovation
Sales Leadership
Workplace Communications
Engineering
With the explosion of advanced technology, leaders in the field of engineering are highly coveted.
Continuous and Discrete Controls
Custom Review Courses
Design for Manufacturing
Digital Signal Processing
Engineering Economics
Instrumentation
Mechanics of Materials
Failure Theory: Static, Fatigue, Deflections and Impact Loading
Threaded Fasteners and Welded Connections
Statistical Processing
System and Signals
Continuous Improvement
The most successful leaders understand that knowledge and expertise are a continual journey.
Continuous Quality Improvement
Leading Innovation
Lean Manufacturing
Lean Six Sigma (Green Belt and Black Belt)
Lean Transformation
Total Quality Management (TQM)
Zero Inventory Production (ZIP)
Information Technology
Thanks to advances in digital and interactive media the business world is more integrated and complex.
Social Media Enterprise Listening
Social Media Policy Management
Mastering Search Engine Optimization
The Art and Science of Cybersecurity
Cybersecurity Training and Consulting
Manufacturing & Logistics
The advanced manufacturing industry has grown by leaps and bounds, as has the need to streamline processes that lead to success.
Advanced Purchasing and Supply Management Techniques
Freight Control and Transportation
Logistics and Supply Chain Management
Maintenance Management
Maintenance Service and Reliability
Materials Management
Packaging Materials and Development
Statistics & Mathematics
Complex mathematics and statistics are pivotal to success in today's hyper-digitized, data-heavy world where calculations must be precise.
Questionnaire/Survey Development and Analysis
Analytics
Data Science
Experimental Design
Multivariate Methods\Biostatistics
Sampling
Time Series
Bayesian Statistics
Optimization Problems
Computational Mathematics
Operations Research
Applied Mathematics Problems (Finance and Biology)
Software Package Support (e.g., Statistics, Operations Research, Mathematics, Scientific Computing)
Clemson Center for Corporate Learning
Clemson Center for Corporate Learning | 1 North Main Street, 7th Floor, Greenville, SC 29601