Clemson Honors Student Ambassadors
Looking for a Student Perspective on Clemson Honors?
Clemson Honors Student Ambassadors are Honors student volunteers who are official ambassadors for the Honors College and who are passionate about Honors at Clemson University.
Ambassadors meet with prospective students and their families to provide a student perspective on their various Honors experiences.
They are a diverse group of students, representing each of Clemson's academic colleges listed below, and they are involved in all aspects of campus life. They are developing communication, teamwork, and leadership skills as they interact with prospective students and their families.
You can read more about each ambassador within their major's college.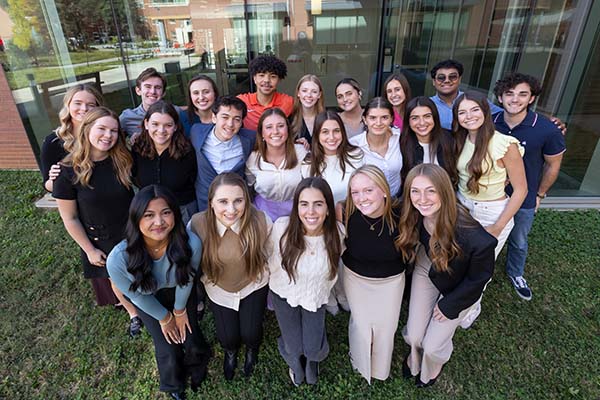 Name: Bailey Gibson
Hometown: Summerfield
Major: Biological Sciences, Pre-Medical, French Language
Class: 2021
Email: begibso@g.clemson.edu
Introduction: Hello prospective Tigers! My name is Bailey Gibson and I am a junior Biological Sciences major with a pre-med emphasis from Summerfield, NC. My favorite things to do include playing sports, cooking new foods, and having game nights with my friends. In the future I hope to work as either an orthopedic physician or a trauma surgeon in areas with unreliable access to healthcare.
Ask me about...: I have been a part of many organizations during my time at Clemson and would love to answer questions about any of them, ranging from club tennis to Navigators to Eco-Reps!
My advice for prospective students: Close your eyes and go with your heart. You can look at all the statistics and all the rankings you want to, but in the end if you don't go where your heart is telling you, you'll always have that feeling that you made the wrong choice inside you. College is what you make it, and the statistics aren't going to make or break that.
My advice for current students: Asking for help shows more strength than doing everything alone.
Why I chose Clemson and the Honors College: I chose the Honors College because it felt like home. I grew up going to Clemson games and visiting family in the area, both my parents went here so it was always a part of my life. But I never wanted to be a Clemson Student until I visited the Honors College. I saw a place where people could succeed together, without tearing each other down, and I saw a place that I would fit in, and have my own unique Clemson Family. I visited plenty of other schools, but nowhere else did I feel as at home as on Clemson's campus.
My involvement in the Honors College: I have been lucky enough to get very involved in the Honors College during my time at Clemson. I have participated in the EUREKA! Undergraduate research program, the Dixon Fellows program, and the Dixon Global Policy Scholars program. I am also an Honors Ambassador and work for the Honors Office. Lastly, I've participated in many of the events that the Honors College has hosted during my time as a student, such as Valentine's Day dinners and Halloween parties.
My involvement in Clemson University: At Clemson, I have also gotten very involved. I was the president of our residential environmental club, Eco-Reps, for two years, I played on the Club Tennis team, and I am a part of Alpha Chi Omega, one of our Greek Societies, as well as Order of Omega. I am also a leader in my campus ministry, the Navigators, have played numerous intramural sports, was an Orientation Ambassador, and have done research with the Chemistry Department.
Orange or purple?: Both
Three things I cannot live without: I could not live without my family, my friends, or my books. Life would be irreversibly changed without these.
My spirit animal: This question is always difficult for me! If I had to pick on animal, I would say a sea otter. Though playful and endearingly optimistic, they are fiercely loyal and defensive of those they love. They are also hard working, but take the time to relax.
Three interesting facts about me: My most interesting fun facts are that I am ambidextrous, though I favor the left, I have tried 61 flavors of Oreos, and I played 9 sports in high school, only 4 varsity though.
My future goals: In the future, my dream is to work for Doctors without Borders in a developing nation where health care is hard to come by. This has been my dream since I was little, and the Honors College has been instrumental in helping me on my way to achieving it.
What are your plans after graduation?: After graduating in fall 2021, I intend to work as a paramedic for 6 months and then attend medical school starting in 2022. Fingers crossed!
How has the Honors College made a difference in your life?: The Clemson Honors College taught me how to lift others up while succeeding and how to grow despite opposition from others. The Honors College has been instrumental in guiding me through several difficult places, and reminding me that I always have people around me who are willing to help if I am brave enough to ask.