Printing & Plotting
In Clemson's efforts to move toward a green future, one of the main focuses of Clemson Printing & Plotting has been to reduce waste.  The implementation of the PawPrints system has reduced the overall printing and waste on campus as well as met both sustainability and economic goals for Clemson University.
This portion of CCIT's web site addresses the Paw Prints printing systems and services provided by Clemson University to its students, faculty, and staff.  Please read through our web site and if you should have any questions, please direct them to the CCIT Help Desk at (864) 656-3494 or send an email to ithelp@clemson.edu.
Introducing Paw Prints Mobile!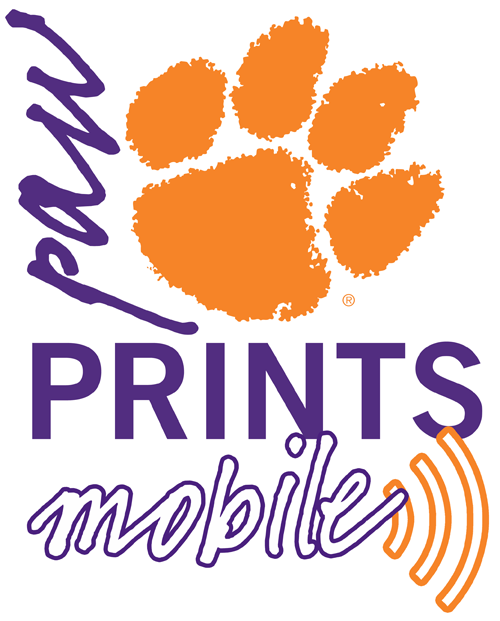 Paw Prints Mobile is now available! This new feature allows existing users to submit jobs from any email-capable device or by uploading them through the web. Click here to learn more.
Print to any of our Paw Prints stations from anywhere on campus!
First download the print driver appropriate to your operating system:
Send your job to the print queue: "CCIT Lab Printers"
Visit any of our PawPrints printers on campus*
Swipe your card or enter username info via touch panel
Select job from your list to be printed and click [Print]
PawPrints Quota and Rates
The PawPrints quota is provided at no cost to each undergraduate and graduate student per semester.  This quota is given in a currency amount in the chart below.  Recent changes in PawPrints systems allow for the use of this quota to be much more flexible between printing and plotting.  Undergraduates and graduate students may use their quota openly to charge prints and plots without any designation or separation of funds. 
For undergraduate students this quota is equivalent to 510 black-and-white printed pages or 25.5 square feet of plotting.  For graduate students this quota is equivalent to 660 black-and-white printed pages or 33 square feet of plotting.  To encourage saving paper, a double-sided (duplex) print counts as only 1 page. 
Additional black and white pages are charged at $0.05 per page.  Plotting charges are calculated on a square foot basis of printed area.
| User Status | PawPrints Quota | B&W Prints Over Quota | Color Prints Over Quota | Plots |
| --- | --- | --- | --- | --- |
| Undergraduates | $25.50 | $0.05/page | $0.10/page | $1.00/ft.2 |
| Graduates | $33.00 | $0.05/page | $0.10/page | $1.00/ft.2 |
| Employee/Faculty | $5.00 | $0.05/page | $0.10/page | $1.00/ft.2 |
*Printers Located in: The Academic Success Center, Brackett, Cooper Library, Daniel, Clemson at the Falls, Hendrix, Hunter, Lee, Lowry, Martin M, McAdams, Sirrine, and the Edgar Brown Union.
Plotting
Plots may be submitted to different queues depending on desired paper size and charging method.  Available paper sizes are 36-inch and 42-inch.
All university affiliated users may submit jobs to plot queues CCITPlot36 and CCITPlot42.  Submitting to these two queues will deduct funds from the user's PawPrints quota and then from their Tiger1 account once the quota has been depleted. 
Employees/Faculty may alternatively submit plot jobs using a 23-digit departmental account number.  These jobs must be submitted to CCITPlotDEP36 and CCITPlotDEP42 plotter queues and a valid 23-digit departmental account number must be provided.
These queues can be installed by clicking on "Printer/Plotter Installation" in the menu bar on the left side of this page.  Please read our updated "Plotter Driver Instructions" for instructions on setting up your plot job and correctly submitting it to the PawPrints system.
For more information regarding plotting, vistit our Plotting FAQ page. There you can learn about common issues and proper plot submission techniques.
Important:
If you incorrectly submit a plot or need to delete it from the queue for any reason, please call us immediately at 656-4766.  The user has no direct access to their job once submitted to the PawPrints system.  If the plot that was submitted has already printed, your account will be charged for the plot. 
Documentation
The documentation contained herein serves as the definitive reference for printing on-campus. If you have a question and can't find the answer here, please contact ithelp@clemson.edu or call (864) 656-3494.
Click on the Image Below to see our Tech Talks Presentation on Plotting How-To's
About Printing Services
Printing Services is a part of the Customer Support & Personal Computing department. The services provided include black and white and color laser printing in CCIT computer labs as well as large format printing on plotters located in the Customer Support Center on the 2nd floor of Cooper Library.
Contact
Plotting hours are Monday - Friday, 8:00 AM - 6:00 PM (Note: On Fridays preceeding a Saturday home football game, the hours are 8:00AM - 4:30PM). Hours of operation for Sunday are 1:00 PM - 6:00 PM.
You can reach us via email at: ithelp@clemson.edu or by phone: (864) 656-4766.