Software Downloads
Software Installers
Click here to download the CCIT Software Center installer for Windows. This application can be used to download and install software like eduroam wireless, Microsoft Office, and Matlab onto your Windows laptop or desktop.

Click here to access the CCIT Mac installers which can be used to setup an eduroam wifi connection and to install various applications. There is also an optional installer that will create a Boot Camp installation of the Windows operating system which will make your Mac a dual-boot system.
Adobe
Clemson is now licensed for the complete Adobe Creative Cloud - a suite of software that includes titles focused around photography, video, audio and design. The Creative Cloud includes access to the following software applications: Photoshop, Lightroom, Illustrator, InDesign, Muse, Edge Animate, Dreamweaver, Edge Web Fonts, Edge Reflow, Edge Code, Edge Inspect, Flash Pro, Premier Pro, After Effects, Audition, Acrobat and more. Adobe Creative Cloud is now available to students, faculty, and staff.
Please visit http://www.clemson.edu/ccit/adobe for more information on how to login to your Creative Cloud account.
If you are having an issue with your activation, please follow this link and Adobe will contact you directly to resolve the issue: https://helpx.adobe.com/contact.html
DreamSpark
DreamSpark is a Microsoft program to provide students with software design and development tools at no charge. Microsoft software licensed under the DreamSpark program is available for students, faculty, and staff (teaching faculty and direct student support staff) in the STEM disciplines: computer science, computer engineering, information technology, and related fields. If you wish for your class to have access to this, please send an email to ithelp@clemson.edu. If you are in a science, technology, engineering or math class and need access to one of the software titles, please send an email to ithelp@clemson.edu.
If you already have an account, log in to Clemson's Webstore for Dreamspark, click here.
Software Downloads
These software packages are downloadable from the web and do not require access to the campus network but are hosted by Box.com and will require Clemson authentication. If you are not already logged into Box, you will be prompted to do so. Click CONTINUE.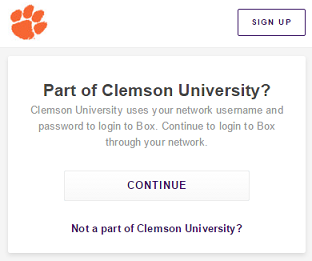 You will be redirected to your download.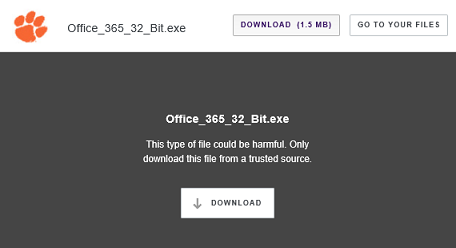 For a full list of software, click here.
Adobe Captivate
Mac


(Captivate v9.0)

Windows


(Captivate v9.0)


 64-bit
This software reimagines the way interactive eLearning is created for a multi-device world. Develop any-screen mobile learning without programming using all-new responsive authoring. Now use an intuitive UI to transform PowerPoint presentations into engaging eLearning using actors, voices, interactions, and quizzes. Leverage best-in-class HTML5 publishing to deliver any content to mobile devices, the web, desktops, and leading LMSs.
Adobe Presenter 11
Mac

Windows
32-bit 64-bit
Adobe Presenter is a screencasting software released by Adobe Systems only available on the Microsoft Windows platform. It is bundled with Adobe eLearning Suite 6 and is mainly targeted towards the learning professionals and trainers. In addition to recording one's computer desktop and speech, it also provides the option to add quizzes and track performance by integrating with learning management systems.

*For the 4-part 32-bit on 64-bit Windows install, download all files to the same directory and run part1.exe.
Eduroam
Mac
Windows
Secure, world-wide roaming access service developed for the international research and education community. Eduroam allows students, researchers and staff from participating institutions to obtain Internet connectivity across home campuses and when visiting other participating institutions by simply opening their laptop or having the network ID on their mobile device.
FTP
Mac
Windows
FTP stands for File Transfer Protocol. Using an FTP client is a method to upload, download, and manage files on our file storage servers.
Host Explorer
Mac
Windows
Full featured PC-to-host and Web-to-host terminal emulation solution, including IBM Mainframes, AS/400s, UNIX and Linux systems. Emulating TN3270E, TN5250E, and Telnet data streams, HostExplorer seamlessly integrates into any networking environment.
JMP
Mac
Windows
(Full Install)

Windows
(Renewal Only)
JMP is software focused on exploratory analytics, whereby users investigate and explore data, rather than to confirm a hypothesis.
Matlab
Mac
Windows
Matlab is a multi-paradigm numerical computing environment and fourth-generation programming language. Developed by MathWorks, MATLAB allows matrix manipulations, plotting of functions and data, implementation of algorithms, creation of user interfaces, and interfacing with programs written in other languages, including C, C++, Java, Fortran and Python.

A list of tool boxes is available here and instructions on how to activate are here.
Microsoft Office
Mac
Windows
32-bit 64-bit

The versions available here are Microsoft Office 365 for Windows and Microsoft Office 2016 for Mac. Microsoft Office is a set of interrelated desktop applications, servers and services, collectively referred to as an office suite, for the Microsoft Windows and Mac OS X operating systems. This includes applications such as Word, Excel, Powerpoint. 

Paw Prints Printers
Mac
Windows
Preconfigured installers for the student printers and plotters on campus
Trend Micro Antivirus
Mac
Windows
Trend Micro is antivirus software is used to safeguard a computer from malware, including viruses, computer worms, and Trojan horses.
Read & Write Gold
Mac
Windows
Read & Write literacy software solutions for the Desktop, Cloud, iPad and and Android help struggling readers and writers, students with learning disabilities, and English Language Learners access the support tools they need at school, work, or home. Read & Write ensures every learner has the tools necessary to reach their potential, build confidence and independence, and succeed.
SSH
Mac
Windows
An SSH client is a software program which uses the secure shell protocol to connect to a remote computer.
WinRAR
Mac
Windows
32-bit 64-bit
WinRAR is a powerful archive manager. It can backup your data and reduce the size of email attachments, decompress RAR, ZIP and other files downloaded from Internet and create new archives in RAR and ZIP file format.
VPN
Mac
Windows
VPN stands for Virtual Private Network and refers to a set of software and hardware that enable your computer to transparently connect to a remote network as if you were physically attached to that network.
Other Software titles can be found on the mapped network drive:  \\software.clemson.edu\software
Questions? Email ithelp@clemson.edu