News & Announcements
Nuclear Engineering and Radiological Science Undergraduate Scholarship Application
The NERS Scholarship program will award top students from: Chemistry, Chemical Engineering, Civil Engineering, Electrical Engineering, Environmental Engineering, Geology, Materials Science and Engineering, Mechanical Engineering, Physics, or a related discipline for participation in nuclear-related coursework and/or research. Apply here.
DeVol Appointed to an EPA Science Advisory Board
Professor Timothy DeVol was recently appointed to serve on the Environmental Protection Agency's (EPA) Scientific Advisory Board (SAB) Radiation Advisory Committee (RAC). The appointment was made by EPA's Acting Administrator, Andrew Wheeler. The SAB Radiation Advisory Committee provides advice to the EPA through the chartered SAB on radiation protection, radiation science, and radiation science applications. Members of the scientific community are nominated to serve on the SAB based on their expertise in particular areas of interest to EPA. Read more.
Brian A. Powell receives distinguished scientist award
Citizens for Nuclear Technology Awareness (CNTA) is pleased to announce that the winner of the 2018 Fred C. Davidson Distinguished Scientist Award is Dr. Brian A. Powell. The prestigious award was presented at the recent Edward Teller Lecture in Aiken. CNTA sponsors the Teller Lecture as a public outreach, which is named for the famed nuclear pioneer who played a key role in advancing nuclear science during World War II. Read more.
Nuclear researcher and doctoral candidate receives $20,000 Hitachi fellowship
A Clemson University Ph.D. student whose environmental research focuses on nuclear-site remediation has received the 2018-19 Hitachi High Technologies Electron Microscopy Fellowship and $20,000 to support her studies. Fellowship recipient Kathryn Peruski also earns use of the university's high-tech Electron Microscope Facility, which is stocked with Hitachi's super-magnifying microscopes that allow materials to be analyzed at a nanoscale. Read more.
Martinez Selected for Bo Lindell Medal
Dr. Nicole Martinez was selected to receive the Bo Lindell Medal, awarded by the Main Commission of the International Commission on Radiological Protection (ICRP). This is a new ICRP award and Dr. Martinez is the inaugural recipient of the medal, which was created in honor of Bo Lindell, a long-time member of the ICRP. The medal aims to recognize early-to-mid career professionals who are making a significant contribution to the promotion of radiological protection. Read more.
Savannah River National Laboratory, Clemson appoint professor to environmental research post
Savannah River National Laboratory and Clemson University have named Brian Powell to a joint faculty position to advance research on environmental remediation and radioactive waste disposal. Powell will use geochemical modeling and laboratory and field experiments to predict how radionuclides will behave in natural and engineered environments to build remediation and waste disposal tools. Read more.
Discovery and innovation to quicken with supercomputer's $1 million upgrade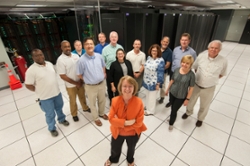 Lindsay Shuller-Nickles' research group is a heavy user of Clemson University's Palmetto cluster, which ranks in the top eight U.S. academic supercomputers according to the Top500 ranking. The supercomputer enables Dr. Shuller-Nickles and her students to study nuclear materials at an atomic level. Dr. Shuller-Nickles was recently involved in the successful NSF MRI award to add $1M to the Palmetto cluster. Read more.
Student Awarded Top Prize in Nuclear Technology R&D Awards
Dawn Montgomery, PhD student in Environmental Engineering and Science, was awarded a first place prize in the Innovations in Nuclear Technology R&D Awards sponsored by the US Department of Energy for her publication in the Journal of Environmental Radioactivity entitled, "The Influence of Citrate and Oxalate on 99TcVII, Cs, NpV and UVI Sorption to a Savannah River Site Soil." Read more.
New biosensor could help search for nuclear activity
Research aimed at creating a new biosensor that would help military investigators search for signs of nuclear activities, including weapons development, is moving forward under the leadership of a former naval officer who now is a Clemson University faculty member. Nicole Martinez and her team are beginning to lay the groundwork for a biosensor that could help determine whether the radiation is natural or manmade and peaceful or weapons grade. It could help investigators search for labs amid concerns a nation or group could illicitly develop weapons of mass destruction. Read more.