Prepared Slides
Whether it is a standard 4 color slide that you can use to demonstrate the capabilities of your 4-channel fluorescent microscope or a custom 6 to 8 color slide set that you can use to test the spectral capabilities of your confocal system, the Clemson Light Imaging Facility is ready to prepare these samples for you!
Available for purchase with no consultation is a sheep muscle and human foreskin fibroblast prepared tissue slide. Both prepared tissue slides have 4 colors (standard blue/green/red/far red filter sets). This sheep muscle slide is offered for $150 and the human foreskin fibroblast slide is offered for $150 (shipping charges to the continental USA are included; international customers should inquire for a shipping charges quote). Customers can expect the product to arrive 2 to 3 weeks after order placement. Simply submit this order form and our staff will email you an invoice and order tracking information. Email
imaging@clemson.edu
for additional information.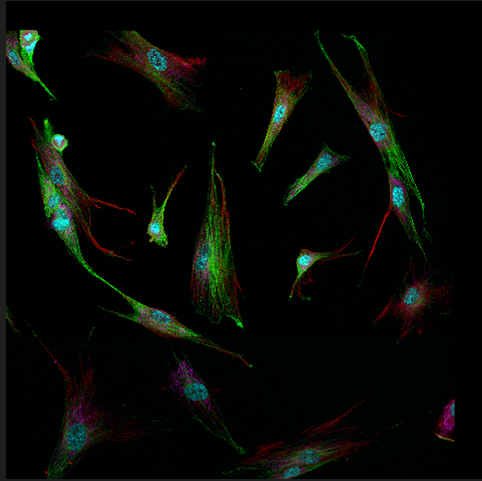 For our customers interested in more than 4 colors, please send us a message at imaging@clemson.edu
. We can prepare a custom slide set for you. Several fluorophore options are available, with optional single color control slides. Turnaround times for custom slides typically range from 3 to 5 weeks.