COMSET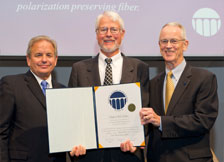 The National Academy of Engineering (NAE) has named a new member from Clemson University, optics researcher Roger Stolen. A pioneer in engineering methods to harness light, Stolen is a distinguished visiting professor in materials science and engineering and faculty member in COMSET.
---
Welcome to COMSET
On, Friday, April 12, 2013, COMSET celebrated its thirteenth birthday! Please read this brief summary of notable accomplishments over the past year.
---
The Center for Optical Materials Science and Engineering Technologies (COMSET), formed in 2000, is an interdisciplinary unit of the College of Engineering and Science at Clemson University. COMSET provides an organized framework with significant centralized infrastructure for faculty with common interests to collaborate in developing advanced materials, devices and systems that generate, transmit, manipulate and utilize light.
 
The science and engineering of light-based technologies is approaching a $7.5 trillion dollar global market. With materials as the technology enabler within all devices and components, Clemson University and South Carolina, through COMSET, are uniquely positioned to support the research, work-force development and outreach needs of the industry.
COMSET conducts an important blend of "what-if" basic science and more applied research with immediate deliverables in wide-ranging areas including organic LEDs, specialty optical fiber, light-emitting plastics, glasses and crystals.
We welcome you to explore this website and contact us with collaborative opportunities.
Brag Points
The Center for Optical Materials Science and Engineering Technologies (COMSET) was formed in 2000 as a research unit of Clemson's College of Engineering and Science. Academic programs (M.S. and Ph.D. in Photonic Science and Engineering) were added in 2009.
30 faculty from six departments focus on application-specific synthesis, characterization and integration of optical materials and optoelectronic structures.
More than $50 million in external research funding to-date; 600 publications and more than 6,500 citations. This is about one journal articles per week and 1.3 citations per day since our founding.
Other Brag Points: seven NSF CAREER awards, six DoD MURIs, DARPA Young Investigator (YIP) Award, Air Force YIP, 30 journal covers
 
Headlines
White House honors Rajendra Singh as 'Champion of Change' for solar deployment
Clemson University lab naming brings together national leaders in optical fiber
Nuclear research could improve safety
Fiber optics pioneer to present at esteemed international conference
Clemson's maker of 'Star Trek' laser technology honored by peers
Ballato to receive Class of '39 Award for Excellence
A new pallet for optical fibers
Clemson professor receives New Researcher Award
COMSET builds on Nufern partnership
Clemson professor receives CAREER Award from National Science Foundation
Clemson's COMSET partners with OFS for fiber optic research lab
ECE Faculty Win Three High Energy Laser Contracts
Clemson researchers are taking common materials to uncommon places by transforming easily obtainable and affordable materials into fiber.
ECE Professor Lin Zhu receives Army Young Investigator Award
A Major Constituent of Brown Algae for Use in High-Capacity Li-Ion Batteries
Professor Liang Dong receives AFOSR grant

Clemson faculty selected as a Champion of Photovoltaics

Clemson faculty member elected ACerS Fellow

Clemson physicist Apparao Rao named Fellow of the American Physical Society

School of Materials Science and Engineering director elected to ACerS Board

Roger Stolen elected to prestigious Russian Academy of Sciences
---
Resources