Fort Hill: National Historic Landmark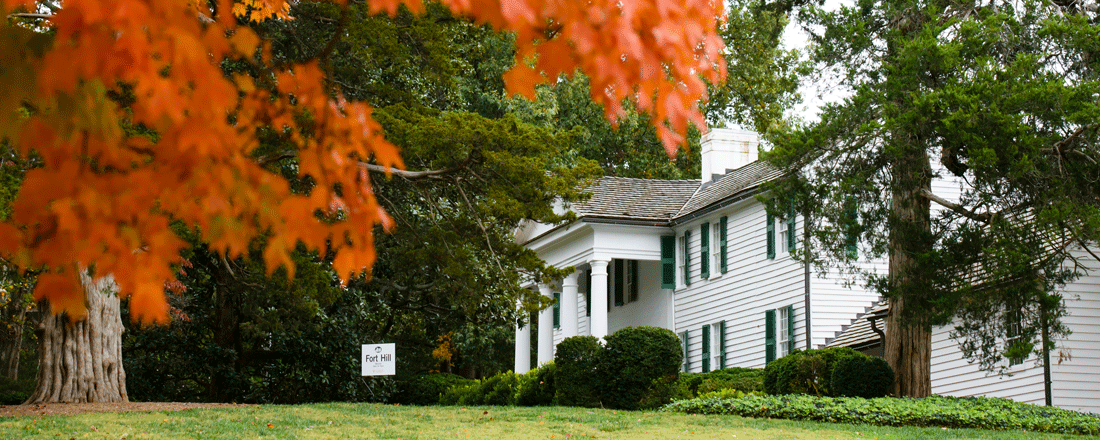 Prior to the Revolutionary War, the Cherokee called the land Esseneca.  William Bartram visited this Lower Town twice, writing that it "is a respectable settlement, situated on the East Bank of the Keowee river."
Before Fort Hill, the antebellum plantation of John C. Calhoun, South Carolina's pre-eminent 19th century statesman, there was four-room Clergy Hall.  Originally built in 1803, Clergy Hall served as the manse or parsonage for nearby Hopewell-Keowee Church, now known as Old Stone Presbyterian Church. Next, Floride Bonneau Colhoun, John C. Calhoun's mother-in-law, purchased the 600 acre property; U.S. Vice President Calhoun's family called the expanded structure Fort Hill, starting in 1830, after Revolutionary War Fort Rutledge.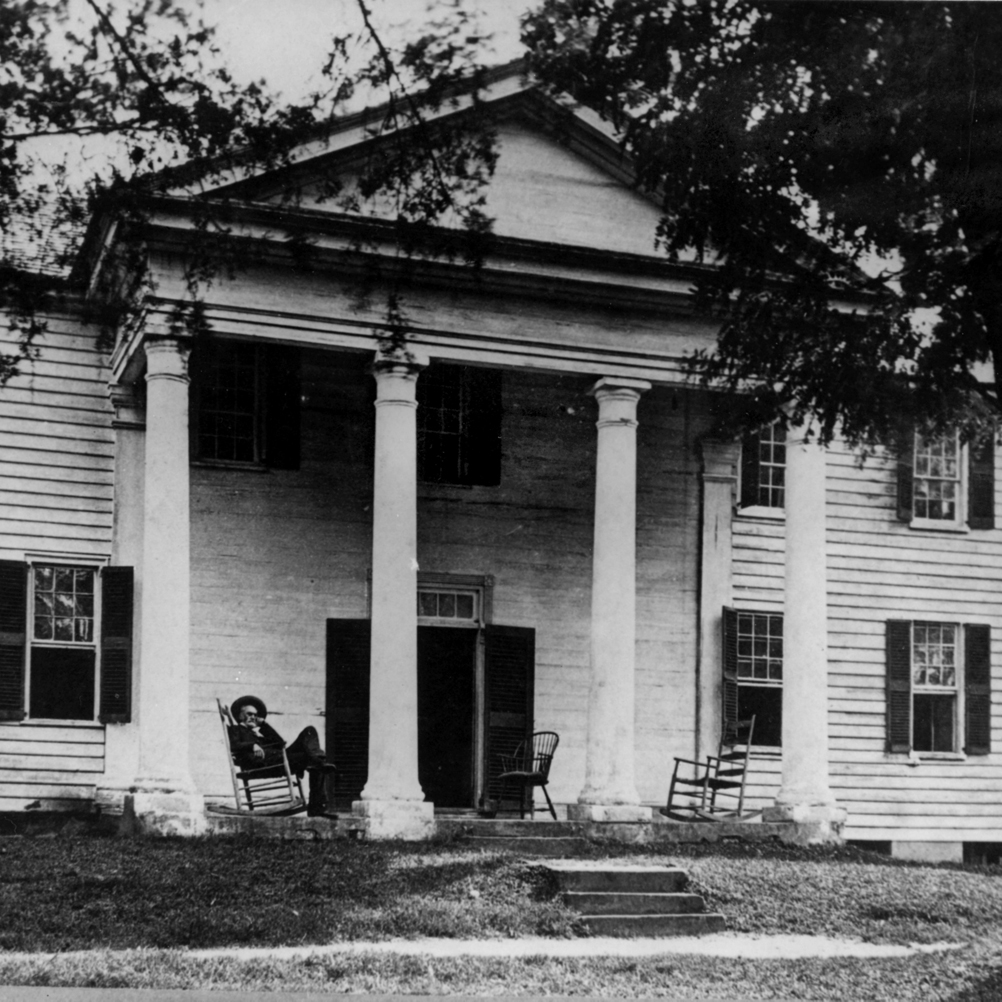 In total, ten rooms were added to the structure and additional acreage was purchased by John C. Calhoun; however, he was not the owner until 1836, after the death of his mother-in-law. When John C. died in 1850, his wife Floride became the sole owner of the Fort Hill home and 1,341 acres of land. When she passed in 1866, portions of the property then went to their daughter and sole surviving child, Anna Maria Calhoun, who had married Thomas Green Clemson in 1838. The Clemsons' daughter, Floride Elizabeth, also inherited a portion.  Tragically, Anna Calhoun Clemson did not take ownership of land until her two surviving children had already passed.
Anna Maria Calhoun Clemson willed her three-fourths share of Fort Hill to her husband, Thomas Clemson, with the caveat that he must die with a will.  At Anna's death in 1875, Thomas worked with two attorneys, James Rion and Richard Wright Simpson, to create his bequest that became Clemson University.  If he had not, the granddaughter Floride Isabella Lee would have inherited the entire property in accordance with Anna Clemson's will.
Through a succession of Calhoun-Clemson women, Fort Hill would come into Thomas Green Clemson's possession. In 1888, Clemson bequeathed three-fourths of the Fort Hill plantation and $80,000 to the state of South Carolina for the establishment of a public scientific and agricultural college. He willed that Fort Hill "shall always be open for the inspection of visitors."
Today, Fort Hill is just as Thomas Clemson envisioned — preserved, restored and open to the public for tours.
---
Fort Hill: Full and Complete History
The enslaved African-Americans, whose story of resistance and resilience left little written records, built and operated from 1825 through 1865., Prior to Anna Clemson inheriting Fort Hill on January 21, 1872, Thomas Green Clemson began signing employment contracts in 1868 with former enslaved persons from Fort Hill and neighboring plantations.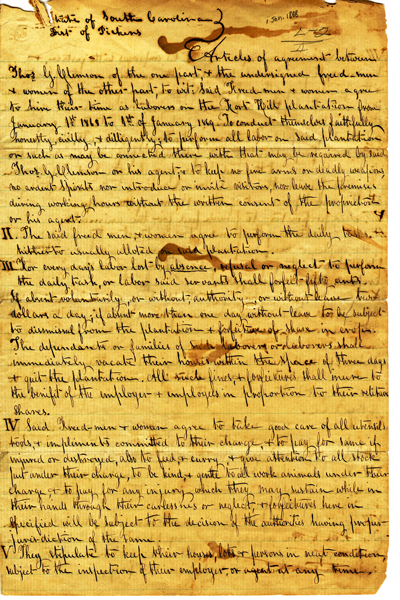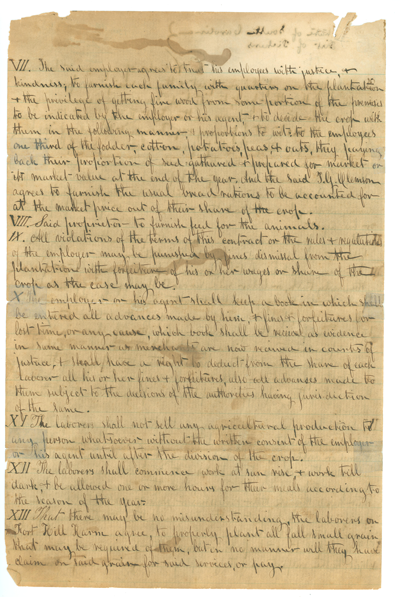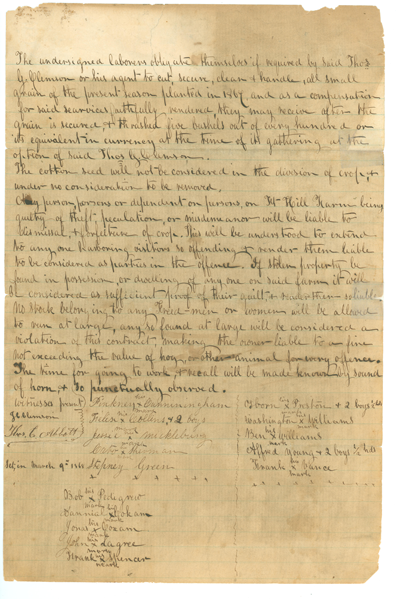 Freedman's Contracts
Signed by Thomas Green Clemson
Life at Fort Hill, and all of its financial growth, was only possible because of the physical labor and sheer determination of the enslaved African Americans who toiled on the 450 acre cultivated land, producing maintaining the household, and performing construction of the plantation.
Since the enslaved who occupied Fort Hill left no written record, their perspective has been made virtually voiceless in history. In many cases, names and family connections are not known.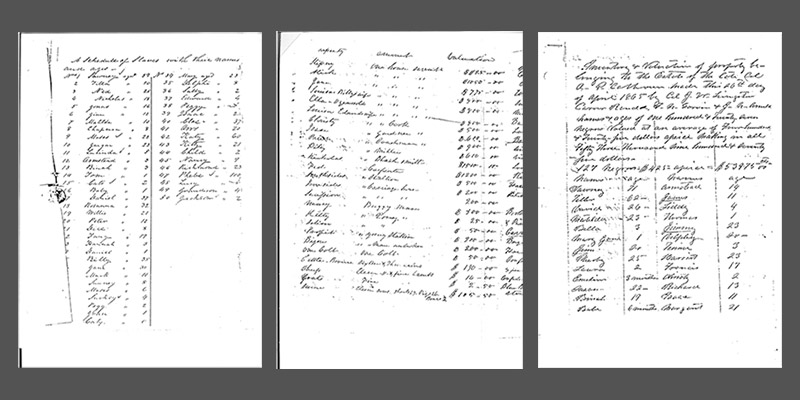 African Americans at Fort Hill – Primary Documents
1854 and 1865
Little is known about the families who were enslaved at Fort Hill by its three plantation era owners, John C. Calhoun, Floride Colhoun Calhoun, and Andrew Pickens Calhoun. There are records of a few family units, including: Sawney, his wife Tiller, and at least two of their children, Sawney Jr. and Issey; Daphne, her husband Bill Lawrence, and their children Susan Clemson Richardson and Benjamin; Sharper, his wife Caroline, and his daughter Tiller; and Nelly and her son Andy.
---