Lab Capabilities
IBIOE capabilities comprise cell culture, bioprinting, small and large scale polymer extrusion, polymer strength testing, scaffold construction via tabletop loom, and polymeric bead construction.
---
Featured Lab Capability: Cell Culture
Cell Culture
Tissue engineering typically utilizes multipotent cells in order to regenerate damaged tissue.  IBIOE has the capability for cell culture work.  IBIOE students work primarily with mammalian cells.  Under sterile conditions, cells are expanded in vitro under a wide range of environmental conditions.  Cells that are expanded under such conditions are used for studies that involve cell differentiation, creating test systems for cancer treatments, biomaterial-cellular interaction, and etc.  In addition to sterile cell culture hoods, IBIOE is equipped with sterile incubators and equipment for evaluation and characterization of cells. 
Furthermore, cell culture can be performed on a variety of scaffold selections.  IBIOE students investigate cells grown in both 2D and 3D conditions.  Bioreactors are used to evaluate large scale cellular proliferation and differentiation.  Also, cultured cells can be bioprinted into specifically designed shapes.
---
IBIOE Lab Capabilities
Cell Culture Capabilities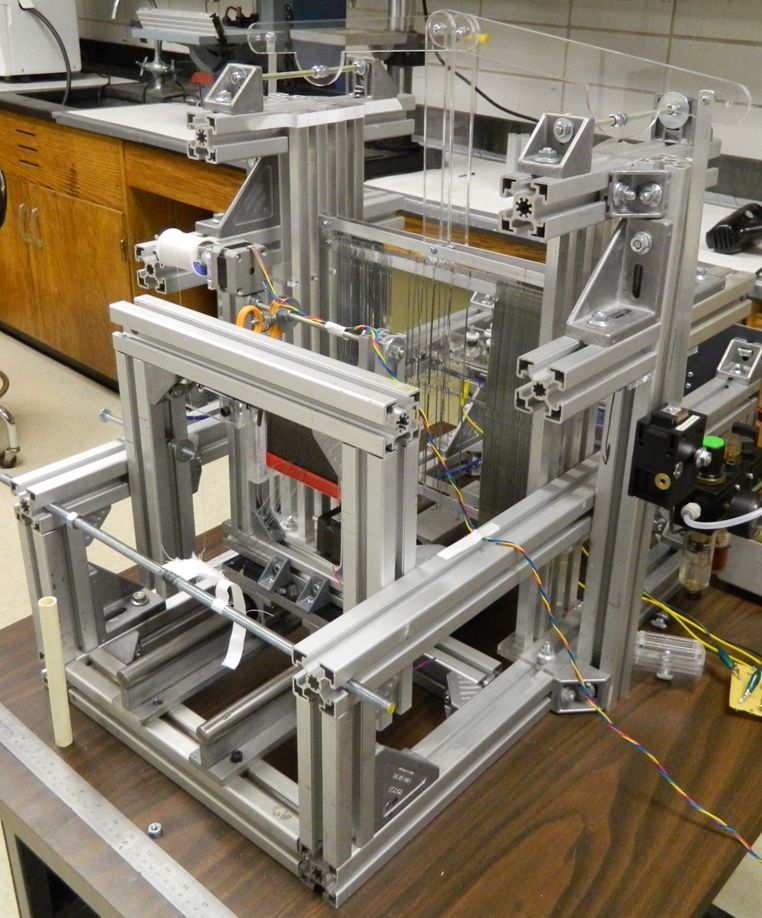 Biomaterials Weaving
Biomaterials Extrusion
Bioprinting
Cell Culture – IBIOE has a fully equipped cell culture facility to support the research in tissue test systems to include cell differentiation, the testing of biomaterials in cell culture, and etc.
Bioprinting – IBIOE is employing the use of inkjet cartridge technology to print cell diagnostic arrays on microscopic slides.
Polymeric Fiber Extrusion – IBIOE is equipped with large and small scale polymer extrusion capabilities with the goal of generating a variety of fibers.
Polymer Strength Testing – IBIOE has an Instron for evaluating the strength of polymeric fibers.
Scaffold Construction – IBIOE employs a table top loom to weave large scale scaffolds with the goal of using the scaffold as an implantable replacement for tissue.
Polymeric Bead Construction – IBIOE employs various methodologies for generating beads as delivery mechanism for cells, vaccines, and chemotherapeutic agents.