Exhibits At The Bob Campbell Geology Museum

The Benson Gallery at the Bob Campbell Geology Museum features educational and awe-inspiring displays of rocks, minerals and fossils. Visitors enjoy both permanent displays and special (limited time) exhibits that are updated several times every year so that there is always something new for repeat visitors to explore.
Permanent Displays
One of our most popular displays is the Saber-tooth Tiger (Smilodon fatalis) skeletal mount pictured above. This agile predator once roamed the Upstate of South Carolina and Clemson Tiger fans like to refer to "Smiley" as "Clemson's Oldest Tiger". We also have a life-sized reconstruction of what a Saber-tooth Tiger may actually have looked like before they went extinct. Visit the BCGM and experience for yourself what it feels like to stare in to the eyes of this ferocious cat.

King among our fossil displays is a complete skull of Tyrannosaurus rex, arguably the most well known and fearsome of all dinosaurs. We also have a cast of the incredibly tiny brain of this giant brute on display so that you can compare the "tyrant lizard king's" potential brain power with your own.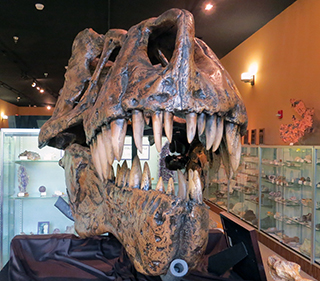 The Bob Campbell Geology Museum is proud to display one of the largest collections of faceted gemstones anywhere in the southeastern USA. The Benson Gem Collection was created by Paul Benson Jr. and later donated to the BCGM by Paul Benson III. The collection features a broad variety of faceted gemstones from all over the world (e.g., diamond, topaz, quartz, opal, garnet, ruby, emerald). Our collection of gemstones also includes the largest topaz crystal ever found in the USA. The BCGM gemstone collection is truly a must see for yourself experience.
 


The Bob Campbell Geology Museum is proud to be the home of the largest display of fluorescent (glowing!) minerals in the southeastern USA. Our fluorescent mineral room features a veritable rainbow of neon-glowing rocks and minerals illuminated by a series of ultraviolet lights. Visitors are amazed by the intensity of colors and those that listen closely will recognize the voice featured on our educational narrative, that of the museum's director and host of Expeditions (on SC ETV), Dr. Patrick McMillan.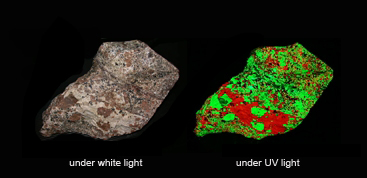 Museum visitors can watch fossils emerge from the rock in our Fossil Preparation Laboratory. The exhibit features a video screen for close-up views of the work area and a platform that allows younger visitors a birds-eye view of the fossils being prepared. Currently, we are preparing a 68 million year old duck-billed dinosaur that was collected during our last expedition to North Dakota in 2017! The 'Prep Lab Exhibit' is open every day, but be sure to visit during our regular prep. hours (currently Tuesdays and Thursday from 10am - 3pm) if you want to ensure that you get to see our fossil preparators in-action.


Special Exhibits
Approximately three times a year, the BCGM offers 'special exhibits' that are displayed in The Benson Gallery along with our permanent exhibits. Admission to special exhibits is free, just like admission to our permanent exhibits. However, your donations are greatly appreciated as 100 % of your donations are used to fund our complementary goals of education and research. Currently, our special exhibit space features an exhibit on "The Evolution of Archosaurs". This thought-provoking display features skeletal reconstructions of Alligator mississippiensis (the alligator species found in SC), Velociraptor mongoliensis (of Jurassic Park fame), Archaeopteryx lithographica (the fist bird), and a Red-shouldered Hawk (a modern-day dinosaur!). New specimens are also frequently added to our permanent mineral and fossil displays. Visit the BCGM often to see the changes we are making and/or visit our Facebook page to see what exciting new things are brewing at the BCGM.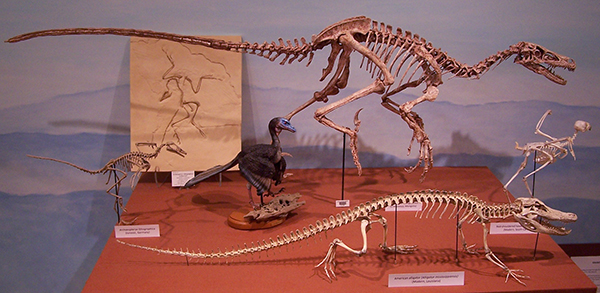 Virtual Museum Tour
Click here to explore an interactive 3-D digital model of the BCGM and get an idea of what you may see when you visit! 
Use the following commands to navigate once you are 'inside' the model:
     - Rotate model: Click and hold left mouse button or equivalent
     - Translate/ Click and hold right mouse button or equivalent
     - Zoom: use mouse wheel or equivalant