Geology Museum Gift Shop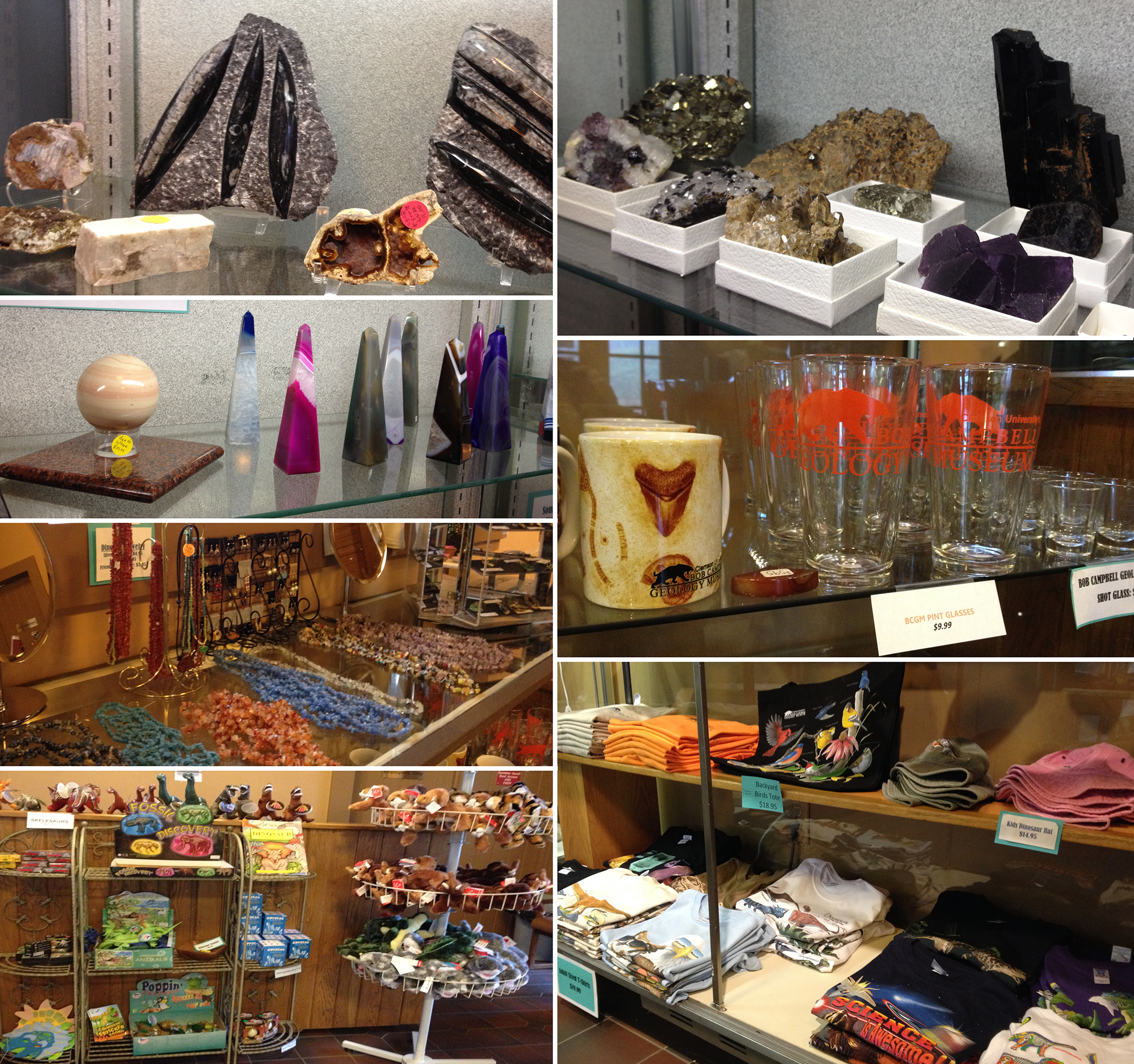 The Bob Campbell Geology Museum Gift Shop: a source for unique gifts not available anywhere else in the Upstate
The Museum Gift Shop is open to the public during the museum's normal operating hours (Mon. - Sun. 10:am-5:pm). We are a non-profit museum store - 100 % of proceeds from the shop support the museum's research and educational programs.
Like our museum, our gift shop provides an experience that is anything but ordinary, with products that are beautiful, creative, clever, well-made, original and inspired...and shoppers can feel good knowing that all proceeds from the Museum Gift Shop are directly used to support the Geology Museum and its programs.
Natural Stone Jewelry
The museum gift shop carries a wide variety of natural stone jewelry made from exquisitely beautiful materials such as amethyst (the state gem of SC!), garnet, turquoise, carnelian, tiger's eye, malachite, etc... Our selection of jewelry includes items for every taste or fashion. We have a carefully selected array of necklaces, bracelets, earrings, rings, pendants, tie clips, belt buckles, etc... We also carry consignment items made by two local artisans so your purchase of these items helps to support our local small-business economy. These truly unique creations, many wrapped with gold or silver wire, are updated regularly so be sure to stop by frequently to see new additions by these local jewelry makers.
Clothing
We carry t-shirts, hats and tote bags that will appeal to anyone who loves the beauty of nature and/or that might be fascinated with prehistoric beasts. We have adult and children's sized items featuring dinosaurs and other extinct animals, minerals and other nature-based themes.
Fun and Educational Toys and Learning Kits
The Museum Gift Shop carries a large selection of items aimed at amateur scientists of all ages. We stock anatomically correct toys of extinct animals such as dinosaurs, pterosaurs, mammoths, sloths, and sabertooth cats. For the more adventurous, we have kits to grow your own crystals or excavate your own fossils.  
Books
Books covering general topics in geology and paleontology and more specific titles related to exploring the geology and collecting minerals and fossils in the Southeast US are available. Our selection includes books for children, science-curious adults, and serious mineral and fossil enthusiasts. 
Minerals and Fossils
The museum gift shop carries a wide array of rare and beautiful mineral specimens for rockhounds, collectors, and anyone who appreciates nature's beauty. Our mineral specimens are regularly replenished so check back often as every single specimen is truly unique. Specimens ranging from $1.00 to hundreds of dollars are available to suit every budget. In addition to a variety of interesting and educational real invertebrate fossils, some as much as 450 million years old, we also stock recreations (casts) of dinosaur teeth, dinosaur claws, trilobites and other fossils.
Other Unique GIfts
We carry an assortment of items that make great gifts such as natural stone candle holders and corkscrews, carved stone animals, and polished stones. We also have BCGM themed pint glasses, shot glasses, coffee mugs, decals, and magnets! We also have wine glasses, mortar and pestles, pencil/pen holders, coaster sets, bowls, spheres, and obelisks carved from natural stone. Come have a look at these unique gift ideas for yourself.
Museum Shop Hours
Monday - Sunday 10:00 a.m. - 5:00 p.m.
(closed during Clemson University holidays)
Location
On the grounds of the South Carolina Botanical Garden, inside the Bob Campbell Geology Museum at:
140 Discovery Lane, Clemson, SC 29634