Buildings
By the Numbers
7,600,000: Square footage of academic, research, housing, student life and athletic spaces
1%: Yearly goal for the average reduction in energy consumption per gross square foot of building space
21: Number of LEED certified buildings
8: Gold certified LEED buildings
100%: Percentage of all new buildings that must achieve silver LEED certified or higher
Many of the buildings on campus were designed and built for a different economic and environmental age. When these buildings were constructed, energy costs were a fraction of what they are today, and the idea that carbon dioxide could lead to climate change was not a real consideration. Now, tremendous energy and cost savings practices are being implemented at Clemson in existing buildings and new buildings, as well as ongoing efforts that seek to educate students and faculty on how to reduce their energy use. These sustainable practices are being done in order to reduce energy consumption per gross square foot of building space on average by 1 percent each year.
LEED Certified Buildings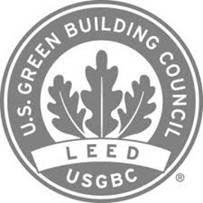 Leadership in Energy & Environmental Design (LEED) is an initiative of the U.S. Green Building Council that provides third-party verification of green buildings. The goals of this program are to lower operating costs, increase the health and safety of occupants, and conserve energy, water, and other resources. Striving to become LEED certified for new and renovated buildings enables Clemson to continue on the path of a more sustainable environment.
The goal, as described in the Sustainable Building Policy, states that all new facilities over 5,000 gross square feet and renovations costing more than 50 percent of building replacement shall seek to acquire a LEED Silver rating at a minimum. University buildings that have received a LEED certification are the Advanced Materials Research Lab, Baruch Institute, Duke Energy Innovation Center, Fraternity Quad, Graduate Engineering Center, Lee Hall III, Packaging Science Building, Rhodes Research Center Annex, Rowing Facility, the Sandhill Conference and Research Center, CU-ICAR Parking Structure/Office, the Academic Success Center, the Watt Family Innovation Center, Core Campus, the Douthit Hills Hub, the Life Sciences Building and the Greenville One Building.
To learn more about Clemson's sustainable building efforts, please visit Clemson's LEED Scorecard.