Historic Hanover House: Over 300 years of history
Hanover House, built in 1716 for French Huguenot Paul de St. Julien in Berkeley County, S.C. likely by enslaved African laborers, was primarily a rice plantation named by the St. Julien family to honored George I, Elector of Hanover, for his assistance to French Huguenots in fleeing France after the 1685 Revocation of the Edict of Nantes.
In the mortar of one of the chimneys, Paul de St Julien inscribed, "Peu a Peu," from the French proverb, "Little by little the bird builds its nest."
The house's original design featured balanced symmetry, a gambrel roof, dormers and French details. The siding was hewn from black cypress timbers and massive triple-flute chimneys accommodated its roomy raised basement with warming kitchens.
In 1741, Hanover was inherited by the young, unmarried Mary de St Julien who received over 720 acres from her father.  In September 1750, Mary married her cousin Henry Ravenel of Pooshee.  After Henry's death in 1785, their son Stephen Ravenel would bequest Hanover to his brother, Daniel James Ravenel.  Daniel James left Hanover to his great-nephew Henry LeNoble Stevens, whose daughter, Henrietta LeNoble Stevens White, was the last member of the St Julien/Ravenel family to own the Hanover House property.
Although the house remained in the St. Julien and Ravenel families for nearly 150 years, in the 1940s, progress threatened to destroy the home. Hanover House was in the path of the man-made Lake Moultrie. However, the Historic American Buildings Survey of the Santee-Cooper basin noted that Hanover was of national significance. Thus, Hanover was moved 250 miles north to the campus of Clemson University, home of the state's architecture school. In 1994, Hanover was relocated to the South Carolina Botanical Garden, and now overlooks an heirloom vegetable garden.
Hanover House, besides serving as a monument of an early French Huguenot colonial structure, is listed on the National Register of Historic Places.
Beginning in the 1950's, the Spartanburg Committee of the National Society of Colonial Dames of America aided in furnishing Hanover as an historic house museum with 18th and 19th century artifacts representative of 1700-1750 and a low country rice plantation.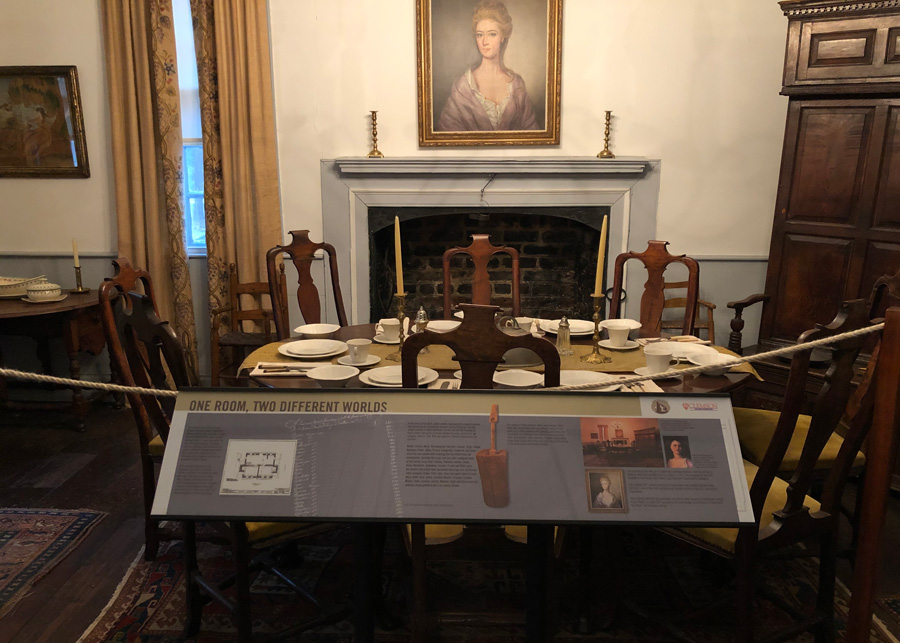 Hanover House
Dining Room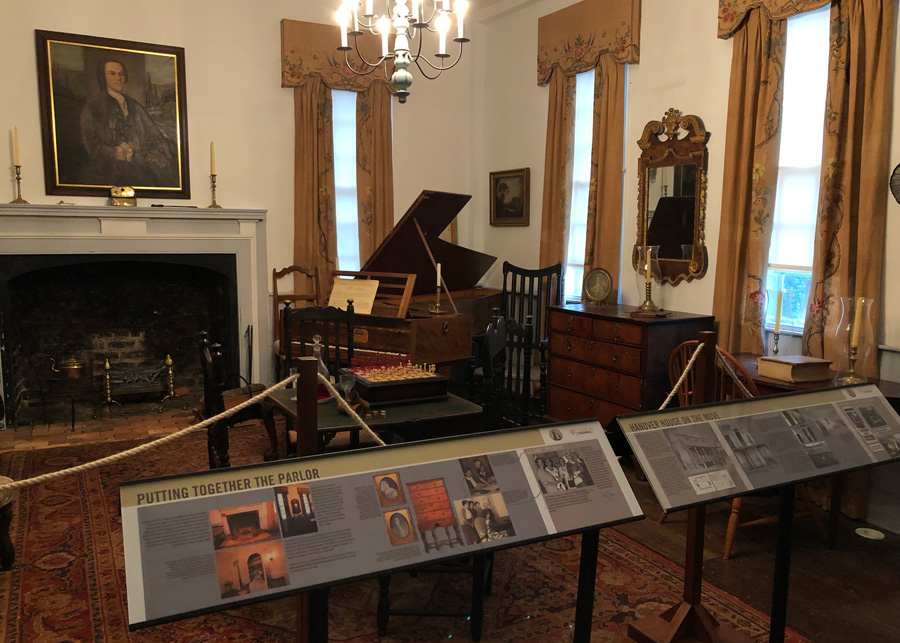 Hanover House
Parlour Exhibit
---