Research
Prosthetics: IBIOE's Collaboration with MUSC
Tissue Engineering
Learn about the steps in tissue testing and Fabrication. See animation here.
IBIOE Major Research Initiatives
In building diagnostic tissue test systems for a wide range of applications, the goal is to develop a toolbox of methods, technologies and assays such as new materials and processes, instrumentation for nondestructive imaging and sensing of 3-D tissues, new approaches to methods of building 3-D tissue systems, and computer-based models to predict development and/or application of tissue systems.
---
Awards and Grants
IBIOE Awarded Avon Foundation for Women's Breast Cancer Research Grant
From the Clemson University Newsroom

The Avon Foundation for Women has awarded the Clemson University Institute for Biological Interfaces of Engineering (IBIOE) a second grant for medical research related to breast cancer procedures. The institute will receive $150,000 from the foundation to support research that improves breast reconstructive surgery using a patient's cells, with a novel application of drugs to reduce tumor recurrence or metastases. 
Clemson was one of seven universities or hospitals to receive grants from the foundation. The recipients were named Sunday in Charlotte following the Avon Walk for Breast Cancer. Avon Walk Charlotte raised $1.7 million to advance access to care and finding a cure for breast cancer. This is the second time the Avon foundation has awarded a grant to Clemson's Institute for Biological Interfaces of Engineering. In 2009, the institute received $195,000. Karen Burg, the institute's director and Hunter Endowed Chair of Bioengineering, who attended the Charlotte event, said the Avon foundation and walk participants raise hundreds of thousands of dollars for breast cancer research. The foundation's grants will help accelerate advances in research and health care. "The Avon Foundation for Women not only raises awareness of this terrible disease, it also leads the way in funding research programs such as IBIOE's," Burg said. Read full article.
More IBIOE Awards and Grants...
---
Publications
IBIOE Graduate Student Matthew Pepper Publishes Research in the Journal of Histotechnology


As lead author, Matthew Pepper, MS, IBIOE Graduate Student and PhD candidate in the Department of Electrical and Computer Engineering at Clemson University, published the research paper entitled, "Thermal Inkjet Printing for Precision Histological Staining" in the September 2011 issue of the Journal of Histotechnology. The research paper presents a liquid deposition system, based on thermal inkjet technology, capable of precisely applying histological processing liquids to form high precision patterns at desired locations on both fixed tissues and cell monolayers. Four experiments were conducted to show the potential of single-drop reagent application, using Aniline Blue, Toluidine Blue, fluorescent probes, and an immunofluorescence antibody to create different patterns.
"Thermal Inkjet Printing for Precision Histological Staining", M. Pepper, Cheryl AP Cass, L. Jenkins, T. Burg, R. Groff, Brian W Booth, Karen JL Burg, Journal of Histotechnology, 2011; 34(3), 121-35, in press. [Journal of Histotechnology]
---
Meetings
IBIOE Graduate Student Erin McCave presents at BMES Annual Meeting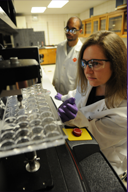 IBIOE graduate student Erin McCave and IBIOE Director Karen Burg were invited to present their research paper "An Interactive Workshop on Tissue Engineering: Measuring Conceptual Knowledge and Interest" at the Biomedical Engineering Society's Annual Meeting in Hartford, Connecticut, October 12-16, 2011. Categorized as part of the Biomedical Engineering Education and Outreach track under the heading of Pedagogical Innovation in Biomedical Engineering, the presentation was made at the Hartford Convention Center on October 15.
The Biomedical Engineering Society is devoted to developing and using engineering and technology to advance human health and well-being.
---
Lab Capabilities
Bead Generation at IBIOE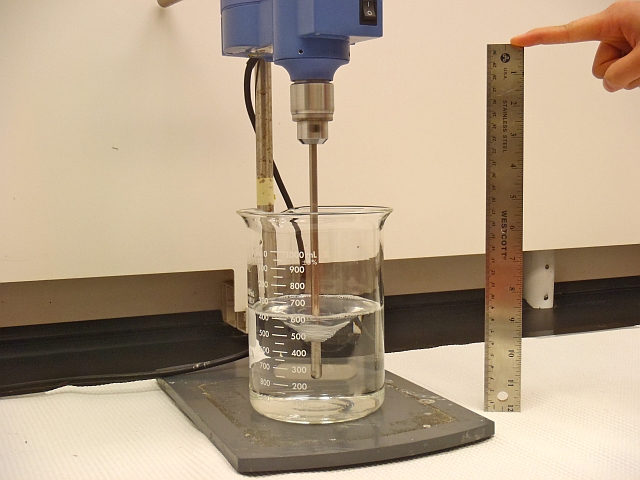 Selection of a tissue engineering scaffold material is important as the material must provide enough strength to support cell attachment, but also must degrade while allowing cells to proliferate and grow into the space previously occupied by the scaffold. Polylactide (PL) beads have been used as 3D tissue engineering scaffolds; their properties can be manipulated through processing and by selection of the raw material. When processing PL beads, many parameters, such as vessel volume and diameter, impeller speed and size, and concentration of solution, must be considered in order to obtain the correct size bead and degradation profile for a particular application. IBIOE's goal is to characterize the bead production process in order to effectively produce beads and tailor their properties for specific applications.