Facilities
Clemson has made a major commitment to support the Center for Optical Materials Science and Engineering Technologies (COMSET), whose mission is to become a global leader for innovation and education in the science and technology of optical materials and optoelectronics, through research, teaching and the transfer and expansion of optical technologies to the private and public sector. COMSET is headquartered at the Advanced Materials Research Laboratory (AMRL), a $21 million state-of-the-art laboratory located at the Advanced Materials Center in Anderson, S.C.

In specific regards to optical fiber fabrication, COMSET operates an Optical Fiber Laboratory, which is the only academic facility in the United States with industry-grade capabilities for fabricating optical fiber. As is detailed below, the Optical Fiber Laboratory comprises an SG Controls MCVD lathe and Heathway Fiber Draw Tower along with a preform and fiber characterization laboratory. The draw tower, lathe and a staff of three on-site researchers with more than 40 years of cumulative industrial experience in the optical fiber industry uniquely position Clemson for defense-related basic research into optical fibers.
Electrical and Computer Engineering Cleanroom
The Micro Fabrication Facility at Clemson University is located within The Center for Optical Materials Science and Engineering Technologies (COMSET) at the Advanced Materials Research Lab (AMRL) in Anderson, SC. This facility provides academic and industry researchers easy access to a complete microelectronic, optoelectronic & MEMS fabrication facility. Processing includes; cleaning wafers and photolithography to metal and oxide deposition as well as plasma etching, metrology and device singulation. Complete fabrication of microelectronic, micro-optic and MEMS devices can be accomplished at Clemson's facility.
Modified Chemical Vapor Deposition (MCVD) Lathe
The SG Controls MCVD lathe has an extended bed with a motorized tailstock and double jaw chucks on both headstock and tailstock capable of securing glass preform stock up to 1.5 meters in length and 70 mm in diameter. The temperature of the preform is monitored with a tracking pyrometer that provides feedback for flow to a half-round hydrogen/oxygen torch with a nitrogen curtain capability, all of which is housed in a clean room enclosure with air flow control.
 
The lathe is interfaced through QNX software using a recipe-based control for all process variables. This allows for carriage speed, mass flow and tube temperature changes to be set or modified at any time during the process. Liquid precursors are delivered to one of four bubblers with individual oil bath control and isothermal heaters to maintain constant temperature. Additional gases are routed through a gas drier/purifier system using electro-polished stainless steel tubing. The lathe is plumbed for N2, O2, H2, Cl2, He, SF6, SiF4, Freon, BCl3, SiCl4, GeCl4, POCl3, and one spare liquid precursor.
Optical Fiber Draw Tower
The Heathway 6.5 meter optical fiber draw tower is equipped with three interchangeable furnaces that can cover a range of temperatures from ambient to 2200 ºC. These furnaces include a high temperature graphite resistance furnace capable of a maximum temperature of 2200 ºC, which is most often used to draw silica materials. This high temperature furnace also has an interchangeable graphite element package to accommodate preforms up to 50 mm in diameter. An inert argon atmosphere inside the furnace protects the graphite form oxidizing during high temperature use. The two intermediate temperature furnaces are used for soft glasses and polymer draws.
The Clemson draw tower is capable of handling preforms from less than 5 to 50 mm. Line speeds up to 180 m/min are possible with forced cooling needed above ~ 80 m/min. Laminar HEPA filtered air flows across the draw line to maintain a particulate free environment. Dual diameter gauges, before and after coating, accurately monitor fiber diameters from 30 to greater than 6000 mm. The tower is also equipped with an automatic preform x-y adjustment unit. Two tractor units provide additional pulling capacity on the tower. A starter tractor assembly draws the fiber at a steady rate and at a consistent diameter for feeding the fiber into the solid die coating systems. A cane tractor assembly provides the capability of drawing rod or tubes of diameters from 500 to 6000 microns.
Central Instrumental Resources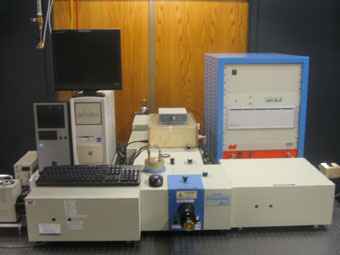 Jobin Yvon Horiba – Fluorolog 3-222 – Tau 3 / TCSPC photoluminescence spectrophotometer
Excitation range

200nm – 1200nm, via xenon bulb and monochromator

UV-Vis detector range

200nm – 800nm, via Horiba visible 400381 pmt

NIR detector range

900nm – 1700nm, via Hamamatsu H10330A-75 pmt

Lifetime range

10ps – 10µm, via Tau lifetime

Using a Amplifier Research 25A250AM6 amplifier

6ns – 1µm, via Time Correlated Single Photon Counter (TCSPC) with nanoLED
50µm – tens of seconds, via Phosphorescence with xenon flash lamp

Sample range

Solutions, Bulk, Films, Aggregates, and Powders
Sample can be front facing or at a right angle to the light source
3 sample holders

Standard for liquid or solid
Low temperature holder with a liquid N2 dewar
Thermostating holder that can switch between two samples in quartz cuvettes

Software

FluorEssence
DataMax
Data Station for TCSPC
DAS6 for TCSPC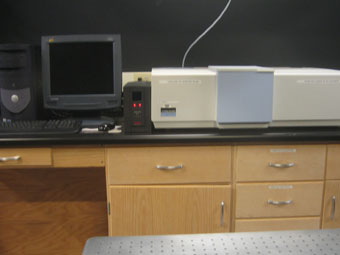 Perkin Elmer – Lambda 900 – UV/Vis/NIR Spectrometer
Scanning range

185nm – 3300nm

±0.08nm UV/Vis, via deuterium and halogen lamps with a photomultiplier detector
 ±0.32nm NIR, via halogen lamp with a Peltier-cooled PbS detector

Sample Range
Software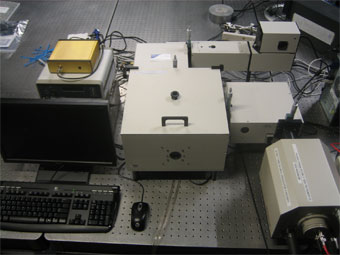 Photon Technology International Inc. (PTI) Fluorescence Master Systems – Quanta Master 60 – Flourometer
Excitation Range

180nm – 1200nm, via xenon lamp

Emission Detection Range

200nm – 1800nm, via Hamamatsu pmt with C9940 cooler

Sample Range

Solution and solids

Has a motorized sample stirrer
Has a thermostable cuvette holder

Software