The Micro Fabrication Facility at Clemson University is located within The Center for Optical Materials Science and Engineering Technologies (COMSET) at the Advanced Materials Research Lab (AMRL) in Anderson, SC. This facility provides academic and industry researchers easy access to a complete microelectronic, optoelectronic & MEMS fabrication facility. Processing includes; cleaning wafers and photolithography to metal and oxide deposition as well as plasma etching, metrology, and device singulation. Complete fabrication of microelectronic, micro-optic & MEMS devices can be accomplished at Clemson's facility.
The Facility was established in 2011, with the arrival of Dr. Eric Johnson as the PalmettoNet Endowed Chair in Optoelectronics. Dr. Johnson and his graduate students began research into novel optical devices and were able to realize their device designs by fabricating them at the Micro Fabrication Facility on-site.
Within 3 years, expansion was needed at the Micro Fabrication Facility. The expansion included metal and dielectric deposition and etching; allowing a host of electronic devices to be fabricated in the same clean room. At the same time, private local companies expressed an interest to access such a facility with these unique fabrication capabilities.
Facility and Staff Capabilities
Most facility users are graduate students fabricating devices for their research or industrial users contracting staff for their expertise. We are proud to have an experienced team who are able to provide personalized training on all tools, plus support and guidance as needed. Access to equipment can be scheduled for convenience.
Wet & dry chemical cleaning and etching.
Plasma etching, both ICP & RIE systems utilizing Fluorine & Chlorine-based chemistries.
ALD & E-beam deposited dielectrics & metals.
I-Line photolithography

Semi-Auto coat & develop tools
5X reduction stepper
1X proximity/contact printer
Micro-Photonics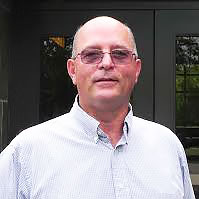 Bill Delaney
Micro-Photonics Fab Manager
AMRL, 114 Building 91
864.656.1118
fdelane@clemson.edu
DRIVING DIRECTIONS
91 Technology Dr.
Anderson, SC. 29625
➤ From Atlanta, GA
➤ From Charlotte, NC
Related Links